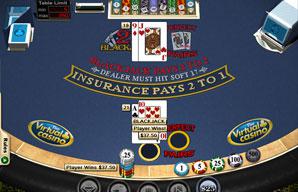 If there is one game we have all at least heard of is Blackjack, also known as 21. In fact, there was even a movie made about it with Kevin Spacey.
Now, taking the Hollywood aspect out of the equation, one of the many reasons this game is so popular is because the odds are very good when you play against the house. As long as you play your cards right, you have the same chances to win as the dealer.
In The Virtual Casino, you have an additional incentive, a side bet we like to call Perfect Pairs. This extra action will let you bet on your first two cards forming a pair.
How to Play:
When playing the game of Blackjack + Perfect Pairs in The Virtual Casino, your objective will be to get as close to 21 as possible with the cards you are dealt but without going over.
In every hand the player gets two cards facing up and the dealer gets one facing up and one facing down. The basic game dynamic is that you need to have a value greater than the dealers and closest to 21 in order to win. You do this be either using the "Stand" button if your cards are good enough or you use the "Hit" button to get an additional card until you Stand or you go over. You can also do a "Double" which serves to double your bet or you can "Split", and separate your cards into two hands. If the value of your hands is over 21 you lose, this is called a Bust. If both you and the dealer have the same value, this is a Push in which no one wins and your bet is returned to you.
For the side bet of the Perfect Pairs you are only betting on the fact that your first two cards are a pair, it can be a mixed pair, a colored pair or a perfect one.
Game Controls:
When you start playing online Blackjack you will have the table facing you and five different values of chips, $1, $5, $25, $100, and $500, on the bottom right hand side. You can choose any of them and different combinations to get the exact amount you want to wager, as long as you have the funds on your account. If want to do is remove chips from the bet, all you have to do is click on the ones already places in the betting box and they will be removed from the current bet and the amount is back in your funds.
You can only add or remove money from the bet before the action starts, once the deal starts you can´t change the ongoing wager since the bets are final.
Once you have selected the amount you want to wager you are faced with a set of buttons, five of them, with the labels, Split, Double, Stand, Hit, and Deal. Next, we will cover what are they for and how to use them.
Split:
Whenever the value of your first two cards is equal you can use the "Split" button to turn them into two separate hands that will be played against the dealer, doubling your chances of winning, and the amount you are wagering. Once you use the "split" the dealer will give you two more cards, one for each hand you are playing. You can play each hand as a regular blackjack hand and you can either hit or stand on either one unless the cards were Aces in which case you can only "Hit" for one additional card.
Double:
This option can only be used one time for every hand you are playing and right after the cards are dealt. When you choose this option the amount you are wagering will be doubled and you will be given one more card. After this, the game will carry on with no further options on this hand.
Stand:
When you click on the "Stand" button, also referred as "stay", you are choosing not to continue the action by asking for more cards, and therefore you play the hand you are holding. Once you do this you won't be allowed any other options until the hand is played and the final result is called.
Hit:
Using the "Hit" button means that are asking for an additional card on top of the two you were initially dealt. You can do this until you stand or bust.
Deal:
This button is used to start every game of Blackjack, once you click it the action starts.
Insurance:
During any game of Blackjack you will be offered the insurance option whenever the deal is holding an Ace as his face up card when the deal starts. If you decide to go for the insurance, then you add an additional amount to the original bet. This amount will be half of what you are wagering. If you win the bet and the dealer has Blackjack, the insurance bet will double and you will lose the initial wager, making the total result a push. If the dealer does not have Blackjack you only lose the insurance bet and continue to play.
Perfect Pair:
This is a side action bet that occurs when the first two card that you are dealt consist of a pair. It can be a mixed pair, a colored pair or a perfect one.
Rules:
This button is located on the left hand side of the table and it will display the basic rules of the game whenever you click on it.
Cashier:
This button will take you to the casino´s cashier. Here you can do all of the transactions like making a deposit, redeem bonus coupons and view your account history, you can also request to withdraw.
Menu:
This button will allow you to choose some different preferences for the game in terms of view, sound and speed. It will also allow for you to view your account details directly from the game screen.
Help:
When you click this button it will direct you to the RealTime Gaming page for the game. Here you will find the basic rules of Blackjack, the payouts and the point values.
Back:
clicking this button will return you to the casino lobby and you will be able to choose another online game to play.
Game Tips:
Blackjack Tip 1: One of the first tips is to follow the house rules, in which the dealer will always stand on a hand that's either 17 or better and hits on a hand that is lower than 16. It also implies never doubling, splitting, going for insurance or any other side action.
Blackjack Tip 2: The next tip is almost an "unspoken" rule of Blackjack, you never split 10's. You might be attracted by the idea of having to hands with a 10 each but you risk much more than you can possibly get, since it is considered foul play, and in an actual casino it might even get you booed out of the table.
Blackjack Tip 3: Another strategy is to always go for a double action when you have a hand of 10 and the dealer is holding less than a 9. Same if you have a hand of 11, regardless of what the dealer is holding.
Game Rules
Blackjack Pays 3:2
Insurance Pays 2:1
Dealer must hit with soft 17
Double any two cards
1 card dealt on split Aces
Related Games