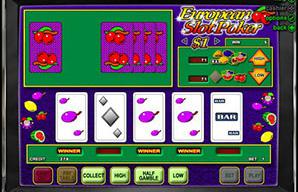 Match the cards and lead your way to victory with great payouts on this online poker extravaganza. Play with a deck of 141 cards with special slot machine theme symbols on the cards offering an interesting twist for casino enthusiasts everywhere. Experience an online game with traditional hand ranking rules but with a creative card ranking system for a shot at massive cash prizes.
How to Play:
First, choose your bet amount and credit quantity. Bet One for a single credit or Bet One multiple times for several credits. After setting you bet you will need to choose which cards to hold. Once the cards are selected you press the Play button for the next cards to be dealt and see the result of your hand on the table. For further information on payouts you can check the Pay Table. If you get four symbols of the same kind in one hand (Plum, Watermelon, Bell or Cherry ) you apply for the Fruit Bonus.
Card Rankings
Bar
Bell
Watermelon
Plum
Lemon
Game Controls:
The game controls for the game are very basic but will translate into fast action plays for the player on its quest for great rewards and opportunities.
Bet:
The bet one button is used to select the amount of credits you wish to play according to the amount of money you have placed to bet.
Pay Table:
Shows the different payout options for the different hand combinations.
Clear:
The clear button will remove all your bets from the table and start over. It is important to have in mind that Pass Line bets, Come bets, and Don't Come bets, also known as "contract bets" cannot be cleared from the table.
Cash Out:
Stops the action for you to cash out your credits and winnings.
Play:
Hit the next set of cards in order for the player to know the final result.
Game Tips:
European Slot Poker Tip 1:
As many other famous casino player would say, practice makes perfect. One must play for fun at the beginning to learn the game's possibilities and ensuring a better shot at winning when dealing with a real money scenario
European Slot Poker Tip 2:
In the quest for better payouts the player must go for higher rank card combos.
European Slot Poker Tip 3:
Maximum betting can increase payouts and opportunities when its done on a series of hands.
Game Rules
The payout table is shown on the European Slot Poker screen.
Related Games