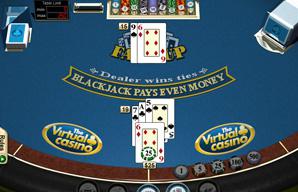 Face up 21 is an intense variation of standard Blackjack, and is perfect for players in search of a challenge and fun. The goal is to get as close to 21 as possible without going over. Face up 21 offers one of the lowest house edges with easy to learn strategies and rules.
How to Play:
In Face up 21 both the dealer and the players are simultaneously dealt two cards face up. To win a hand, the player's hand must be valued greater than the dealer's at the end of the game. Your goal is to get as close to 21 as possible without going over. During the game you will have the option to hit, stand, double or split, during your turn, as long as the value of your hand has not exceeded 21. You loose or "bust" if your hand exceeds 21. If your hand and the dealer's are of equal values then you "push". In the event of a push, the player's bet will be void and his/her money will be returned.
Game Controls:
At the Face up 21 table you will have 5 casino chips laid out on the table's border with the following values: $1, $5, $25, $100, and $500. You will be able to select the amount you would like to bet on each hand by clicking on those chips, as long as your bankroll allows for it. If you would like to bet $35 on your next hand, you would simply click the $25 chip once, and then click the $5 chip 2 times to bring the total chip count placed in the betting (ante) box to $35. To remove chips from your bet, just click on the chips already placed in the betting box and they will be removed and placed back in your bankroll.
(NOTE: you can only remove chips from your bankroll before you have dealt the hand. Once the deal starts, all bets are final.)
There are 5 control buttons below the table that are labeled Split, Double, Stand, Hit, and Deal. Below is a brief description of what will happen when you use, and when to use, each of these buttons.
Split:
You can use the split option if your first two cards dealt are of equal value. Once you split, each of your two matching cards will be separated and you will be dealt two more cards, one on top of each of the other matching cards. Your bet amount will be doubled (the game will automatically move an amount equal to your initial ante from your bankroll to the table) and you will be able to play two separate hands within the same game. You can then hit or stand, unless the cards split were Aces. In that case, you will only be allowed one hit before the game will automatically move on.
Double:
In Face up 21 you can actually double on two-card and hard totals of 9-11. You can even double after a split.
Stand:
To stand is to choose not to continue betting and play the hand you are holding. Once you stand on a hand, you will not be allowed any other options and your hand will remain in play as is, awaiting the final results of the table for that game.
Hit:
When you hit you are asking the dealer for another card to be given to you.
Deal:
The button is used to start each game. Once the deal button is pressed, all bets are on and the game has started.
Insurance:
There is no insurance option for Face up 21.
Rules Tab:
The rules button will show the basic rules of the game and it is displayed on the left-hand side of the table.
Cashier Button:
Press this button if you need to make deposits, request withdrawals, redeem coupon codes and view your account history.
Menu Button:
The menu button allows you to change the presets for the game in regards to view, sound and card speed, and also allow you to view your account history directly from the game screen.
Help:
The help button will take you to the RTG Face up 21 page where you will be able to find the basic rules of the game along with Payouts and Point Values.
Back:
Press this button in case you need to go back to the casino lobby to choose another game to play.
Game Tips:
Blackjack Tip 1:
The dealer will always stand on a hand of 17 or better and will never make any additional bets like doubling, splitting, or insurance. This playing strategy keeps the edge to a minimum.
Blackjack Tip 2:
If you are dealt two 10's, it may sound appealing to split them but the risk is much greater than the possible rewards. Therefore, never split 10's in Face up 21.
Blackjack Tip 3:
No matter what card the dealer is showing, always double down with a Face up 21 hand of 10 when dealer is showing a 9 or lower and always double down with a hand of 11. This bet is your main advantage in the game and, if used properly, it can make you a winner.
Game Rules
Blackjack Pays Even Money
Insurance Pays 2:1
Dealer must hit with soft 17
Double any two cards
1 card dealt on split Aces
Related Games