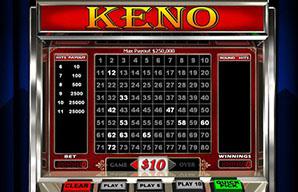 Keno is a very entertaining and easy to play game for all ages and players searching for a blast of fun and adventure. Keno is still quite popular despite the fact that it is one of the oldest casino games. The rules for Keno are quite simple; the goal is to predict what numbers are going to be drawn. You have the option of selecting a maximum of 15 numbers out of 80 and you can play one, five or even ten games consecutively. You can choose your favorite numbers or have the online Keno machine choose them for you.
How to Play:
In Online Keno, you simply choose up to 15 numbers that you think might be drawn. Numbers will be drawn randomly after the player has selected his/her numbers. The selected numbers will be highlighted in yellow when they match the drawn numbers. Drawn numbers will be marked with an "X" if they do not match your selected numbers. The minimum and maximum required amount of hits and their respective payouts are displayed on the Keno board.
Game Controls:
Once you enter the Keno game from The Virtual Casino lobby, you will be able to select up to 15 numbers out of 80. To get started you need to place your bet by using the arrow keys to select the amount. Once the betting amount and the numbers have been selected, click on Play 1, Play 5, or Play 10 to indicate the amount of Keno cards you wish to play.
Below is a brief description of each of the buttons found below the Keno table.
Bet:
The bet button allows you to choose your wagering amount, giving you the options of betting $1, $5 or $10 per round.
Play:
The play buttons allow you to play 1, 5 or even10 rounds at a consecutively.
Quick Pick:
The quick pick button selects 10 playing numbers randomly.
Cashier Button:
The cashier button will take you to the casino cashier where you can make your deposits, request withdrawals, redeem bonus coupons and view your account history.
Menu Button:
The menu button allows you to choose your preferences for the game in regards to view, sound and card speed.
Help:
The help button will take you to the RTG Keno page where you will be able to find the basic rules of the game along with Payouts and Point Values.
Back:
The back button will send you back to the casino lobby and allow you to choose another game to play.
Game Tips:
Keno Tip 1:
Play with limited numbers to get more hits. Play with more money but with a limited amount of numbers to get the most of Keno.
Keno Tip 2:
Keep using the same numbers for several rounds as it will increase your chances at winning in the long run.
Keno Tip 3:
Play with number patterns for several rounds to better your chances at winning big time.
Game Rules
Payouts increase as your bet is also increased per game.
Related Games