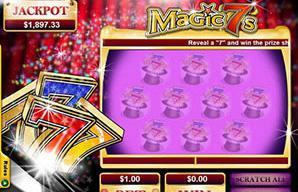 The Magic 7's have arrived! They have come to fill you life with joy and fortune. Magic 7's will take on a magic journey where wizards will be giving you extraordinary payouts and enchanting bonuses. Don't miss out on the opportunity of seeing magic happen right in front of your eyes.
How to Play:
To get started, select the bet amount you wish to play and click play to activate the card. Once you have pressed the play button you may click on the prize area to reveal your prize or you may also scratch all prizes at once by pressing Scratch All. The goal of Magic 7's is to reveal a 7 and receive the prize shown. Your price is doubled as a Magic Hat.
Game Controls:
Use the up and down arrow buttons to set your betting amount. Press play to activate the scratch card and when you are ready to play click on each set of dice to reveal the prize or you may press Scratch All to reveal all prize at once.
Below is a brief description of each of the buttons found at the Magic 7's scratch card.
Bet:
Use the up and down arrow buttons to set your betting amount.
Play:
The play button activates the Magic 7's scratch card.
Scratch all:
Press this button to reaveal all prizes at once.
Rules:
The rules button displays all the general rules of the game.
Cashier Button:
The cashier button will take you to the casino cashier where you can do everything from viewing you account history, making deposits, requesting withdrawals, and redeeming the bonus coupons.
Help:
The help button will take you to the RTG Magic 7's page where you will be able to find the basic rules of the game along with winning combinations, complete game rules and bonus round information.
Back:
The back button will send you back to the casino lobby and allow you to choose another game to play.
Game Tips:
Magic 7's Tip 1:
Start wagering with the lowest amount and when you have doubled the amount of money you had started with, start placing higher bets.
Magic 7's Tip 2:
Reveal a Magic Hat and your prize will be doubled.
Magic 7's Tip 3:
Get acquainted with the game by playing the free version before playing with real money.
Game Rules
The payout table is revealed as the cards are scratched.
Related Games