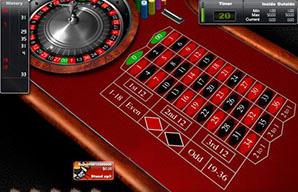 You can now play a new and improved version of the old time classic French Roulette with Virtual Casino's newest game Multiplayer Roulette. Enjoy one of the most popular casino games and play live with other users. You can experience a more interactive and cool version of the roulette wheel and personalized it with your own avatar an alias. You can easily access this game through our download version and start enjoying this exciting game right now!
Playing Multiplayer Roulette is really easy: all you have to do is log into your Virtual Casino account on the download version and search for the game under "Specialty Games". Once you access the game, you will receive the opportunity to choose an avatar and an alias to customize your game. After this, you will enter a page where you will see the different tables you can choose to play at (with different minimum bets), make your choice and start having fun! Remember that this game can only be accessed through the download version at Virtual Casino.
Game Controls:
Multiplayer Roulette includes a few important game controls you need to learn and get acquainted to before you start playing this game for real. Take some time to check the summary of these game controls below:
Neighbor & Call Bets:
Click to use a Neighbor Bet strategy or to select a predefined Call Bet.
Favorites:
Click to save your favorite bets. You can use these favorite bets at any time during the game.
Autoplay:
Click Autoplay and set your bets to be played automatically.
Paytable:
See bet names, payouts and maximum bet allowed on the table you are currently playing.
Spin:
Click spin after you have made your bets to make the roulette wheel spin.
Undo:
Delete the bet you just made in order to place a new one.
Clear:
Clear your bets from the table and start over.
Some other buttons that you will find on your game are the cashier button, which takes you directly into the cashier area where you can deposit more money or request a withdrawal of your winnings. The "Help" button includes a comprehensive list of frequently asked questions about Multiplayer Roulette that might come in handy. The "Back" button takes you to the tables lobby where you can choose a different table to play at.
Game Tips:
There a few tips you can use to make the most out of Multiplayer Roulette game session: make sure you are paying attention to what other players do during the game as you can learn their strategies and use them to your advantage. Try an play bets with lower payouts and they are too hard to hit and will probably eat up your bankroll quickly, choose lower payout bets, as they have better odds.
Game Rules
There aren't many difficult rules to play French Roulette: make sure you check the maximum bet of the table so you can play an organized game and keep control of your winnings and loses. Pay good attention to what others around you are playing, as you will be able to pick a tip or two.
Related Games