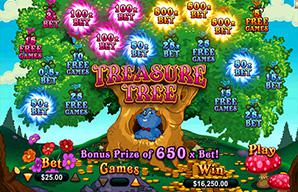 Got an itch for a scratch and win game? Then you'll want to check out Treasure Tree, a match and win game from The Virtual Casino where matching three of the same prizes in the same colored area nets you a win. Forget reels. Forget paylines. Forget everything you know about online casino games. Treasure Tree is just as fun but completely different. Just place your bet, shake the tree, and see what you've won. If you've matched three symbols, you win. You could even score free games along the way. See? Isn't nature fun?
How to Play:
Getting started with Treasure Tree is easy. And don't worry, you don't have to know your deciduous forests from your coniferous ones to play. All you need to know is how to press a couple of buttons. Just start off by making your bet selection using the up and down arrows next to the Bet button. You'll find that on the left side of the screen. When you're good to go, just shake the tree. The moneybags will loosen and all prizes will be revealed.
The bags contain a prize multiplier or a listed number of free games. If you match three identical prizes in the same colored area, you'll win that prize multiplier. That means if you've bet $2 and you hit three 500x prize multiplier bags, you'll win $1,000.
Game Controls:
It's easy to control the game in Treasure Tree. If you're used to a slot machine, Treasure Tree works a bit different. After all, there aren't any reels. But the general concept is the same and you'll definitely find the interface quite familiar.
Bet:
This controls your bet per tree shake. Bet anywhere from $0.01 to $5.
Games:
You can control how many games you'd like to play in a row by using the up and down arrows.
Win:
This section of the game will show you what you've won after each tree shake.
Reveal All:
After you've placed your bet, just click Reveal All to reveal all the bags on the tree.
Game Tips:
Treasure Tree is as random as it gets, but that doesn't mean there aren't a few things you can do to ensure you're playing smartly. First, we recommend never better more than 5% of your bankroll on a single tree shake. Doing so could mean you'll lose your bankroll much quicker. Your goal is to win, so making small gains is the smartest approach.
Game Rules
There aren't too many rules you need to know about. However, keep in mind that hitting three identical prizes doesn't necessarily mean an automatic win. All matching game prize multipliers or free game values must show up in the same colored are on the tree to qualify. Hitting two wins in one section and a similar number in another section does not count toward a win.
Game Jackpot
There is no progressive jackpot or traditional jackpot in Treasure Tree. However, it's easy to win big. The game features tree prizes worth up to 500x your bet, all instantly. Plus, you have the potential to win free games over and over again. It all adds up to a possible payout of 2000x your bet.