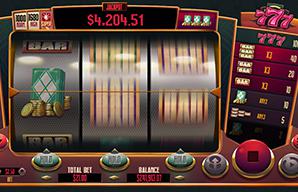 Are you feeling lucky, punk? We sure hope you are… because the all-new 777 slot game has arrived at the Virtual Casino!
This 3-reel, fixed payline slot is packed to the absolute brim with the most top rewards and prizes, and is a slot game which will have any reel-thirsty gambler immersed in fun for hours! Unlike most modern online slots, 777 comes with a lot more to boot! Not only is the layout and corresponding buttons similar to that of a traditional pub-style slot machine, it also comes with 3 different tiers for the top reward; giving you 3 chances to hit it big! Place a Normal wager for 1,000 x your bet, a High bet for 1,680 times your bet, or a Super Bet to be in for a chance at winning the almighty progressive jackpot!
The Cards symbol acts as the substitute symbol in this game, and substitutes for all symbols apart from the Cards themselves. Each time the Cards substitute in a line win, your payout for that win is multiplied 3x, while more than 1 multiplier may match and multiply a win by up to 9x the amount! There are no scatters in 777, but the special Hold Feature Trigger becomes active after a winning combination. This gives you even more opportunities to play for the mega bucks! Available for Desktop, MAC, and Mobile – players can also take advantage of the 'Instant Play' option to get to grips with this fantastic new slot before committing any real money. Prepare to get lost in a whirlwind of excitement and suspense with the lucky 777 slot game! Available to play now at the Virtual Casino.
Sign up with a 250% No Max Bonus and 40 Free Spins or a 275% No Max Bonus for a $70+ deposit and 40 Free Spins! Simply use the code 777WIN.
How to Play
Load the game and click "play" to get started. Then, you'll need to select your bet. There is only 1 fixed payline in 777 and 3 reels. We advise betting max coins, however the wager size can be adjusted using the buttons at the bottom of the screen. Once you've picked your wager amount, simply click the Spin button to get those reels turning and churning! If you'd rather not spin manually, turn on Autoplay to sit back and watch the action!
Game Controls
Realtime Gaming is one of the best providers of incomparable game performance, high-definition graphics, digital sound and exciting features, and the same can certainly be said for 777. To begin, all you need to do is load up the game, and use the buttons to select your bet amount. Once you're satisfied with the amount you've wagered, click the Spin button to get the reels rolling toward your first free games, bonuses, and huge wins.
Bet
Use the - and + arrows to change your bet. Do this before you hit the spin button.
Paylines
This game features 3 reels and 1 fixed payline.
Spin
To set the reels in motion, select spin.
Autoplay
The Autoplay feature will spin the reels automatically, and can be turned on/off at your discretion during play sessions.
Game Tips
Systemizing an effective strategy for modern slots games is difficult, as all slots use random number generators (RNGs). These make it impossible to forecast any outcomes or results during game sessions. We suggest paying close attention to your bankroll and to choose a bet amount that will allow continuous play sessions to fully enjoy the gaming experience of 777.
Game Rules
The rules of 777 are self-explanatory. There are 3 reels with 1 fixed payline, as well as a special wild substitute symbol, the Cards. Every time a Cards symbol substitutes a wild win, the pay is multiplied by 3! The unique 'Hold' feature is triggered after a winning combination, giving you even more chances to win huge money!
More than 1 multiplier may match and multiply a win by up to 9 times.
777 plays against a paytable which covers a normal bet amount, a high bet, and a super bet for a chance to win the mighty progressive jackpot.
How to play 777 Hold Feature Trigger
Player may choose to hold any 1 or 2 reels by clicking the "HOLD" button under the corresponding reel.
When 2 reels are held, the third HOLD button becomes disabled.
When each hold button is clicked, an extra bet amount will be calculated to increase the total bet amount. Once the player confirms the bet amount, he/she can spin to start the 'Hold & Spin' game.
The 'Hold & Spin's bet amount is calculated based on the bet from last paid game.
The 'Hold & Spin' game will only pay a winning combination with a payout higher than the payout of winning combination that activated the HOLD feature.
When 3 Cards game logo wilds are won, all HOLD buttons will be disabled until the next new game round.
Related Games