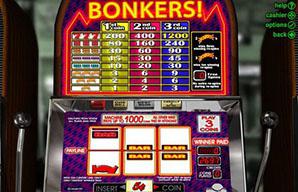 Get your coins ready for a three reel adventure where great cash prizes await inside. Free Spin Bonus Rounds and fantastic payouts will make
casino
enthusiasts visit this online slot machine where Bonkers translates into instant money making action.
How to Play:
The main goal in Bonkers is to line up matching symbols on the payline. The wild icon will substitute for any other symbol in a winning combination. Set your wager amount per credit, then click on the chips to add the amount of credits you wish to play. You can bet from one to three credits at a time. Click on the "Spin Reel" button or click the lever to spin the reels.
Game Controls:
In Bonkers game, the credit's value can be as low as $0.05 and as high as $5. You will have three casino chips with the following values: $5, $25 and $100. Depending on the size of your playable bankroll, you will be able to select the amount you would like to bet on each hand by clicking on those chips. To remove chips from your bet and/or to cash out your winnings just press the "Cash Out" button.
Below is a brief description of each of the buttons found at the game of Bonkers!.
Bet One :
The bet one button is used to select the amount of credits you wish to play according to the amount of money you have placed to bet.
Bet Max:
The bet max button plays all your credits at once.
Cash Out:
The cash out button places all the winnings in your bankroll and/or button returns all the money to your bankroll before spinning the reels.
Cashier Button:
The cashier button will take you to the casino cashier where you can view your account history, make deposits, request withdrawals, and redeem coupon codes.
Menu Button:
The menu button allows you to choose your preferences for the game in regards to view, sound and card speed.
Help:
The help button will take you to the RTG Bonkers! page where you will be able to find the basic rules of the game along with Payouts.
Back:
The back button will send you back to the casino lobby and allow you to choose another game to play.
Game Tips:
Bonkers Tip 1:
If your aim is to win big you should play with more coins to get higher payouts. As you get started, start building up your bankroll by playing just with one coin. Once you are confident enough to play with more coins do so.
Bonkers Tip 2:
Analyze the payout table for a better understanding of all the possible scenarios and winning combinations.
Bonkers Tip 3:
Practice makes perfect. For most players is a good thing to play the free version first to master the game before switching to real money.
Game Rules
Please refer to the pay table displayed in the game. Payouts increase when you increase your bet per hand. The corresponding column will be highlighted in the pay table when you increase your bet per hand.
Related Games