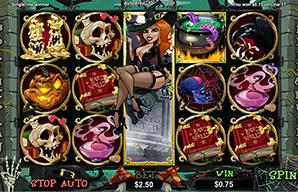 Who says witches have to be scary? In Bubble Bubble, Winni the Witch is one seductive enchantress who will make you wish it were Halloween all year long. Join her in this fixed 50-payline slots game with three magical feature games that you'll love. The online slots game comes with a max payout of 3,000x your bet per line, a Cauldron symbol that leads to free games, and a Winni the Witch substitute symbol that works its magic to bring you wins without having to hit three symbols in a row. It all adds up to the best Halloween yet, all year long. No tricking.
How to Play:
To get started, simply load the game from The Virtual Casino software on your PC or through the web if you're on a Mac. When the game loads, simply place your bet to get going. If you're used to playing online slots games that come with adjustable paylines, you'll need to adjust your perception a bit for this one. There is no Lines button in Bubble Bubble. You must play all 50 paylines at once as this is a fixed payline game. However, you are free to adjust your bet. To do that, simple use the up and down arrows next to the Bet button. When you're happy with your selection, click the Spin button to start playing. The reels will spin super-fast, stop just as quickly, and pay you out for any wins automatically. It's practically magic!
Game Controls:
You don't need a book of spells to figure out how to control the game. In fact, it doesn't take any witchery at all to play. Simple follow these controls and you'll stay locked to your broomstick and in full command of the game.
Bet: Use the arrows next to this button to raise or lower your bet per spin. Remember, you can't adjust your bet per line in this online slots game, so play with whatever you're comfortable with.
Lines: Select your paylines using the same arrow control scheme. Pirate Isle offers up to 25 lines on each spin, giving you plenty of chances to hit it big!
Spin: When you're happy with your bet, click Spin to lock in your bet and start the game. Then sit back and wait to see what you've won.
Autoplay: If you'd prefer to win while relaxing, just click Autoplay. When activated, the software will spin for you, pay you out for any wins, and place a bet again using the same amount as on the previous spin.
Game Tips
Never bet more than you can afford. A good rule of thumb to follow is to never bet more than 2.5% of your bankroll on a single spin. So, if you have $100 to play with, don't be more than $2.50 per spin. While betting bigger could net bigger wins, it could take some time to actually win something. The worst situation to be in is betting your entire bankroll and having nothing to play with, so bet smart.
Game Rules
There are three feature games in Bubble Bubble, including the Great Ghosts feature, the Wild Witches feature, and Bewitched. To access one of the feature games, simply hit 3 or more scatter symbols during a regular game. Then, touch one of the cauldrons to find out which feature game you'll get to play. Note that each feature game comes with varying numbers of free games, prize multipliers, and retriggering rules. Consult the help section in the game for specific details.
Game Jackpot
There is no jackpot available in Bubble Bubble. However, you will find three separate feature games, which can award a prize as much as 100x your bet, plus dozens of free games.
Game Symbols
Winni the Witch
Raven
Jack o Lantern
Cauldron
Ingredients
Candles
Black Cat
Potion
Skull
Spellbook
Spider
Toad
Related Games