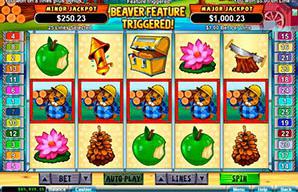 Beavers might think that life on the river is peaceful, but we're dropping you in the center of their world to shake things up! Try your luck at breaking down the dam that the beavers have worked so hard to build and watch the money flow your way. Complete with cute & furry creatures, a river of excitement, two big jackpots, and loads of opportunities to win, Builder Beaver is destined to become your new favorite.
How to Play:
Once you're logged in, find Builder Beaver by clicking the Slots button, located on the bottom of the Virtual Casino software. Then, click the Video Slots tab at the top, find and click Builder Beaver, and hit Play.
Once the game loads, you're set to go. To get things going, just decide on how many lines you'd like to play and how much you'd like to bet. Then, hit Spin and watch what happens.
In this game, you'll want to pay attention to the Beaver symbol and the Sign symbol.
The Beaver is the substitute symbol. That means he can substitute for any other symbol you hit, with the exception of the Sign.
In Builder Beaver, the Sign is the scatter symbol, and if you hit three or more—anywhere on the board—you'll enter the bonus round and get to play 10 free games.
Prizes in the bonus round are automatically doubled. If you hit a Sign symbol, it'll magically morph into a wild beaver.
Game Controls:
Bet:
To start, choose how much you'd like to bet by using the arrows located to the right and left of the Bet button. Once you've selected your bet, you can choose how many lines you'd like to play. By default, all 25 variable pay lines are selected. Use the up and down arrows located on either side of the Spin button to change your bet.
Spin:
As soon as you've decided on your bet and the number of lines you want to play, lock it in by hitting the Spin button. The reels will start spinning. Look out for the Sign and Beaver symbols!
Autoplay:
If you know you want to play the same number of lines and bet the same amount of money with every spin, just hit the Auto Play button. After each spin, we'll take care of hitting the spin button for you, so you can sit back and watch the money roll in.
Cashier Button:
Won some cash? Need to deposit more money? Just click the Cashier button. You can make a deposit if you're short on funds, request a fast-and-easy cashout if you've won some money, or even view your transaction history.
Menu Button:
Too loud for you? Want to slow things down or speed things up? Hit the Menu button to access special game options like game play speed, volume control, and more.
Help:
For detailed information on Builder Beavers' bonus rules, special features, jackpot amounts, and a step-by-step tutorial, just hit the Help button.
Game Tips
Bonuses on top of Bonuses:
You're eligible to earn an additional 10 free bonus games on top of the initial 10 free bonus games if you hit three or more Sign symbols during a bonus round.
Beaver Bonus:
Hitting three or more scattered Beaver symbols during regular play will catapult you into a special bonus round. You'll get to play 12 free games.
Play Anywhere:
Can't download the software? Builder Beaver is available through Instant Play as well.
Game Rules
• You may play anywhere from 1 to 25 pay lines per spin.
• Pay table prizes are multiplied by your bet per line. This rule doesn't apply to scatter symbols.
• Prizes during the bonus round that's triggered by the Sign symbol are doubled.
• Minor and Major jackpots are available to be won.
Game Jackpot
It's not just about winning when your symbols line up. It's about winning when you least expect it. Builder Beaver includes two jackpots—a major jackpot that starts at $1,000 and a minor jackpot that starts at $250. These two figures are the amounts that the jackpots are reset to once they're popped. There's no upper limit associated with either jackpot.
Game Symbols
Beaver
Sign
Bear
Mrs. Beaver
Lunchbox
Cabin
Whistle
WaterLily
Pinecone
Apple
Raccoon
Saw
Related Games