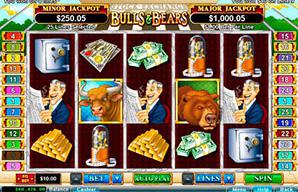 Play Bulls & Bears online slot game to find out which of these strong animals has the best buy and selling skills! With this brand new stock market themed game from RTG players will get opportunities to win with its Feature Guarantee: more games, more cash! Bulls & Bears online slot allows you to double your prizes, or even quadruple them if main characters appear during your game! Are you ready to get wild? Play RTG's newest online slot game Bulls & Bears at Virtual Casino now!
How to Play:
To play Bulls & Bears you will be required to choose your per line (remember that Bulls & Bears is a 25 payline game), you need to choose the amount of money per wager as well as how many lines you want to play with.
Spin:
Click the "Spin" Button and the reels will move, this is how you start playing.
Autospin:
Also you can play this game in an automatic way by making different bet choices per bet and adjust your "Autospin" preferences.
How to win:
No matter which is your favorite way to play your game, you will get chances to win Local Progressive, Minor and Major Random Jackpots or more once every game ends.
Game Controls:
Bulls & Bears has been designed to be as easy to play as every all time favorite online slot game: you will need to customize your game play by choosing the bet per line, how many lines you will be betting on and if you like playing in the Autospin mode, choose a personal customization for this feature. The main game controls are:
Spin:
Which sets the wheels in motion for the game.
Autoplay:
That allows you to personalize the settings of you game in order to be played automatically. "Lines Selected", which allows you to choose how many paylines you want to play with.
Help:
Which includes frequently asked questions of the Bulls & Bears games in case you need assistance.
Bet Per Line:
Where you can set the amount of money you want to be per line on every game.
It is very important that you make your choices carefully when you are setting your game on "Autoplay"; since the game will be on automatic mode there is really no way to edit the preferences while playing and you could lose money if you don't choose wisely. Once you do this you will be off to have loads of fun!
Game Tips
Make sure you know what the characters in Bulls & Bears mean beforehand and play wisely on each spin. Take advantage of the Feature Guarantee that is included on this game and make the most out of the many free spins that come along with it. Make sure you choose your bet amount and how many lines you will be playing before you hit the spin button. If you are playing with Free Chips, keep in mind that these come with certain limitations, and you should be aware of them at all times.
Game Rules
These are some important game rules to keep in mind while playing Bulls & Bears: You can choose from 1 to 25 paylines.
Scatter wins are added to line wins, which are multiplied by slot bet.
The game includes random progressive jackpots that can be awarded.
The Feature Guarantee insures free games to be triggered after certain amount of spins.
Game Symbols
Bull
Cash
Boat
Safe
Bullion
Stock Certificate
Bear
Stockbroker
Tickertape
Businessman
Car
Chart
Related Games