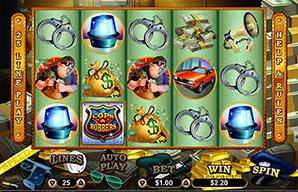 Drop your donuts, and dodge the cops! Now's the perfect time to put your code cracking skills to the test and boost your bankroll. Keep an eye out for Cops and Robbers, because they can turn a near-miss into a winning combination in a flash. Rack up three in a single spin, and you'll be on your way to the vault for a chance to claim your fortune. Are you ready to pull on your finest ski mask and claim your share of the loot? If so, Cash Bandits has everything you'll need for an awesome time at the casino.
How to Play:
As a beginner, you'll have no trouble enjoying Cash Bandits. The game features clear, intuitive controls that'll get you off to a great start. First, take your pick between the downloadable and instant play versions of the game. Whichever you choose, you'll have full access to all of the great features this slot has to offer. Next, select your wager. To do this, simply use the arrow controls to fine tune your number of lines and bet per line. Remember, if you win free spins, they'll be played at the wager of the initiating spin, so it can definitely pay to go big. When you're happy with your selection, click spin, and get the game started. With a little luck, you'll be on your way to your first big win.
Game Controls:
Great slot games don't need complicated control schemes that get in the way of the fun, and Cash Bandits follows this formula to great success. You'll have no trouble getting started with this slots game, but let's get a little more familiar with the control scheme before you get your game underway.
Bet: Selecting your bet with the simple arrow controls will determine how much you claim for each winning combination. Remember, this indicates your bet for each line.
Lines: The second portion of your wager is the number of lines you'd like to play. Use the arrow controls to activate up to 25 opportunities to win per spin.
Spin: When your bet is just the way you want it, you're ready to get the reels turning. Find the button marked 'Spin', and give it a click.
Autoplay: Tired of clicking that button after each and every spin? Activate the autoplay feature to keep the game going without the need for any additional input.
With all of that in mind, you're ready to get the game started. Put your code cracking skills to the test, and you could come out with a host of free spins and bonus wins. So, are you ready to put your bandit skills to the test and boost your bankroll?
Game Tips
With a completely random game like Cash Bandits, it's difficult to develop a winning strategy. However, there are some important tips to keep in mind if you want to maximize your winnings. First, play all of the lines. There's nothing worse than realizing that you missed out on a big win because you didn't play a line. Next, top out your bet. Don't outspend your bankroll, but larger bets open the door for bigger wins on free spins and features.
Game Rules
The most important rules to keep in mind in this game revolve around the Cops and Robbers scatter symbols. Collect three or more on a single spin, and you'll get to put your skills to the test in the innovative Vault feature. Crack the code, and big prizes could be headed your way.
Game Jackpot
Cash Bandits features a random progressive jackpot that can be won at the conclusion of any game. It's simple, and you don't need to do anything special to win. Just play the game, and you could be the next big winner.
Game Symbols
Cops And Robbers
Robber
Getaway Car
Cop
Vault
Bank
Donut
Gun
Handcuffs
Loot
Megaphone
Money
Related Games