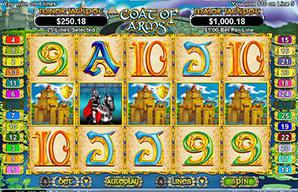 Experience the best game play paired with the excitement of one of the best themes of all times with Coat of Arms online slots. Roam the world in the ancient times of knights and discover all the wonders that this game features.
How to Play:
When you enter Coat of Arms you will have to decide how many lines you want to play, you can choose anything from 1 to 25 paylines, you will also need to select the amount you want to wager. This will be divided by the number of lines you play.
Once this is done, all you have to do is click on the "Spin" button for the action to start.
During the game you will encounter both Wild Symbols and Scatter Symbols. They will trigger the bonus features and can be played anywhere on the board, except for the case of a wild symbol that cannot substitute a Scatter one.
When you play the Scatter symbols, the winnings that you get on the bonus rounds will be added to your total.
Game Controls:
Here you will find a list of all of the controls for Coat of Arms:
Bet:
Use the up and down arrows to increase and decrease the bet amount you are playing on each line (up to 25 lines total per spin).
Spin:
Once your bets and lines to play are selected, click "Spin" to get your action started.
Autoplay:
This feature will give you the ability to pre select the bet and number of lines, along with how many spins you want and just let the game take care of everything else.
Cashier Button:
It will take you to the casino´s cashier; here you can make any transactions you want from cashing out your big winnings to depositing more game play money. You will also be able to review all of your transaction history here.
Help:
This button will take you to the help page for Coat of Arms; here you will find all the relevant information about the game, from Bonus rules to top award Jackpot amounts to the Scatter system and overall game play.
Back:
The back button will send you back to the casino lobby and allow you to choose another game to play.
Game Rules
Paylines: 1 -25.
Scatter wins are added to line wins.
Scatter wins are multiplied by total bet.
Line wins are multiplied by bet per line.
Multiple jackpots awarded.
Game Jackpot Tips
Jackpot Tip 1: Both the minor and major jackpot are completely random. And they don't have an upper limit. They will increase in value with each bet until they are won.
Jackpot Tip 2: The minor Jackpot resets to $250 and the major Jackpot with $1000.
Game Symbols
Nine
Ten
Jack
Queen
King
Ace
White Knight
Castle
Goblet
Sack of Coins
Shield and Swordh
Black Knights
Related Games