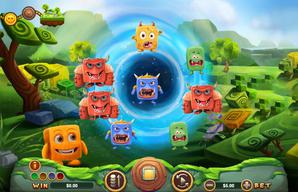 Cubee is a brand new and original slot game from The Virtual Casino! The hits just keep on coming with the latest release from Real-Time Gaming, Cubee. This time-travel-inspired slot game will transport you to 4 fantastical realms through the ages. You'll encounter cavemen, pirates, and Vikings while you fight and defeat Cuvee's nemesis, Rocco, the one-eyed meanie with an axe to grind. Rocco starts in the Stone Age as a caveman, and travels through time to transform into a pirate and a Viking warrior. But Cubee eats enemy symbols and powers up to defeat Rocco with the weapons of each era. Power up Cubee to munch bigger enemies for bigger wins! Accumulate free spins and multipliers to use in one massive bonus round! Hours of adventure awaits you in the brand-new Cubee slot game!
In this awesome new slots game, you'll spin through time to the magical age of cavemen, pirates, and Vikings. Start in the Stone Age with Cubee and Rocco as they square off for a timeless battle for cash and bonuses! Spin the vortex to spit out 8 floating symbols. Cubee eats small enemies and power balls to power up and win. Special weapons appear to smack Rocco and lower his health. When Rocco falls over, Cubee cheers, and you're off to the next era! With a top award of 50,000 times the total bet, let Cubee become your go-to slot and teleport you to wealth and prosperity!
Sign up with a $150 deposit and receive a 360% Bonus and 80 Free Spins or get a 340% bonus and 70 Free Spins for a $100 deposit! Simply use the code CUBEETIME to claim your rewards and start playing!
How to Play:
Simply load the game and click "play" to get started. Then, you'll need to select your bet. There is one fixed payline and no reels. We advise betting max coins, but the wager size can be adjusted using the arrows at the bottom of the screen. Once you've picked your wager amount, simply click the spin button and enjoy watching the whirling time vortex in action! If you'd rather not spin manually, turn on Autoplay to sit back and watch the action!
Game Controls:
Real-Time Gaming is marked as one of the best in the industry for incomparable game performance, high-definition graphics, digital sound and impeccable features, and Cubee is certainly no different. To begin, all you need to do is load up the game, and use the arrow keys to select your wager amount. Once you're satisfied with the amount you've bet, click the Spin button to get the reels rolling toward your first free games, spins, and huge wins.
Bet: Use the up and down arrows to change your bet. Do this before you hit the Spin button.
Paylines: This game features 1 circular vortex with 8 floating symbols.
Spin: To set the time vortex in motion, select Spin.
Autoplay: The Autoplay feature will spin the vortex automatically, and can be turned on/off at your discretion during play sessions.
Game Tips
Coming up with an effective strategy for modern slots games is difficult, as all slots use random number generators (RNGs). These make it impossible to predict any outcomes or results during gameplay. We suggest paying close attention to your bankroll and choose a wager that will allow solid play sessions to fully enjoy the gaming experience of Cubee.
Game Rules
The rules of Cubee are very self-explanatory. There are no reels, only a single spinning time vortex which spits out 8 floating symbols. Match up smaller enemies and Cubee will eat them for the win! He also eats power balls for power ups, and he grows in size to eat bigger enemies.
Special weapon symbols attack Rocco and reduce his health bar.
8 symbols include enemies, power balls, and weapons, and the cannon and bow symbols trigger free spins and multipliers. The top award is 50,000 times the total bet.
How to play the Cubee Free Games Feature
Free spins are accumulated in the Pirate Era and saved until the fourth level of the game.
Cubee Bonuses
Multipliers are accumulated in the Viking Age.
Free games and multipliers are saved until round 4 for a massive bonus round.
Related Games