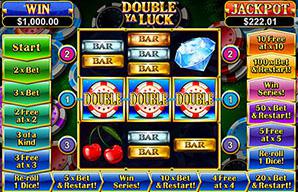 Salt and pepper. Peanut butter and jelly. Pizza and beer. Some things just go perfectly together. Inspired by the "good things come in pairs" philosophy, we bring you Double Ya Luck, a 3-payline slots game that hands out big wins in pairs. There are loads of rewarding symbols in this one, including the Double, Ya, and Luck symbols. If you land on all three on the first three reels in that order, you'll get to play a special 50/50 Gamble game where you can keep doubling up on the free games by wagering a guess. If you miss out on hitting Ya and Luck, don't worry. Hitting Double in a winning combo automatically doubles your payouts. There's also a special Boardgame feature round that you can get into by landing on the Dice symbol. With so many ways to win, you're going to want to scream twice as loud!
How to Play:
It's super easy to play Double Ya Luck. Just start by making your bet and line selections. Use the up and down arrows next to the Bet and Lines buttons to either raise or lower your selections. This is a 3-payline game, so you can play between one and three paylines. You can also wager between $0.01 per line and $5 per line. Click the Spin button to set the reels in motion and you'll get paid out if you've matched up the right symbols. Remember, hitting the Double symbol in a winning combination leads to double payouts, so there's huge opportunity to win doubly big!
Game Controls:
It might be called Double Ya Luck, but you don't necessarily need two hands to play this game. Go ahead and eat a slice of pizza with your other hand because this game is easy to control and easy to play. In fact, pair up those slices of pizza and drop one into the other hand. Double Ya Luck comes with a unique hands-free feature too!
Bet: Use the up and down arrows to modify your bet amount, anywhere from $0.01 per line to $5 per line.
Lines: This is a 3-payline slots game. You can play 1, 2, or 3 lines. Remember your bet per spin is calculated by multiplying your bet per line by the number of lines.
Spin: The Spin button signals to the software to set the reels in motion. They'll come to a complete stop just a few short seconds later.
Autoplay: Want to sit back and let the software do the work? Turn on Autoplay. We'll use your last bet and line selections to place your bet and spin for you. And we'll keep doing so until you turn off Autoplay.
Game Tips
You might be tempted to play just one payline to conserve your bankroll. While that's one method that new casino players often employ, it might not be the best one. But by leaving the other two paylines off, you're risking missing out on a win should your symbols line up on a payline you decided not to play. If you're trying to conserve your bankroll, consider lowering your bet amount while keeping your line selections locked at three.
Game Rules
Double Ya Luck comes with a top award of 10,000 times your bet per line. It should be noted that all symbols pay out on any payline. And while the Double symbol can substitute for most symbols in the game, the 7, Dice, Ya, and Luck symbols are the exceptions.
Game Jackpot
Double Ya Luck features a local progressive jackpot that pops randomly at the end of a game. The reset amount is $222, but that's just the start. It's common to see the Double Ya Luck jackpot soar into 5-figure territory, so try your luck and see if you can pop it.
Game Symbols
Double
Ya
Luck
1 Bar
2 Bars
3 Bars
Dice
Dollar
Diamond
7
Cherries
Horseshoe
Related Games