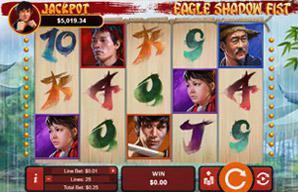 Looking for a bit of old school martial arts action and big wins? You're in the right place. This classic martial arts slot is based on the 1970s cult classic action film starring martial arts legend Jackie Chan. Set during the Second World War as a dark cloud spreads out from the imperialist Empire of the Rising Sun, the Japanese military make their way across the Pacific rim leaving devastation in their wake.
As the hero in this epic battle, you are a passionate young revolutionary, determined to fight to the death for freedom from the Japanese overlord. To accomplish your mission, you disguise yourself and members of your team as opera singers to battle undercover Japanese agents sent to infiltrate your group and lay waste to your world.
How to Play:
All you'll need to do is load the game and click play to get started. From there, you'll need to select your wager in increments starting at $0.50. Just input your total bet, click spin and take flight! With a little bit of luck, you'll find yourself with plenty of scatters and wilds. And remember, you can always turn on Autoplay if you just want to sit back and enjoy the ride.
Game Controls:
Real Time Gaming is renowned throughout the business for its intuitive games and fantastic designs. Eagle Shadow Fist is no different. All you'll need to do to get started is load up the game, and use the arrow controls to select your wager. You can also set the reel speed according to your taste. When you're happy with your bet, just click the spin button to get the reels going toward your first big win.
Bet:
Use the up and down arrows to modify your bet. This controls your bet per spin, which isn't locked in until you hit the Spin button.
Spin:
To get the reels moving, just hit the Spin button. They'll spin and stop automatically.
Speed:
Select how fast you want the reels to spin by setting the speed.
Autoplay:
Want those gems to fall even faster? Just turn Autoplay on. The software will use the last bet amount you made to spin for you automatically. Once you're paid out for any wins, it'll do so again and again. And it'll keep going until you turn Autoplay off.
Game Tips
Developing a solid, effective strategy for modern slots games is no easy task, because every available game is built around a random number generator that ensures no predictable patterns emerge. As a result, the best way to get the most out of your time with Eagle Shadow Fist is to evaluate your bankroll and choose a wager that will allow for a solid play session, regardless of whether you get on a hot streak or have a run of bad luck.
Game Rules
The rules of Eagle Shadow Fist are easy to follow. There are 5-reels, 25 variable paylines, and all symbols pay left to right with the exception of scatters.
How to get to the Bonus Features
The multiplier during FREE GAMES depends on the number of triggering SCATTERS

3 SCATTERS - x2
4 SCATTERS - x3
5 SCATTERS - x4

3 or more scatter symbols trigger 20 FREE SPINS
The original FREE GAMES multiplier also applies to re-triggered FREE GAMES.
FREE GAMES use the line and bet settings of the triggering game.
Game Symbols
Green Man
Blue Man
Orange Man
Purple Woman
Red Man
Scatter
10
Ace
King
Queen
Jack
Wild x2