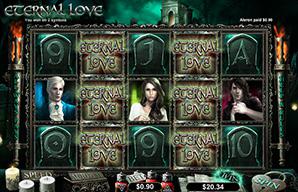 Be seduced by Eternal Love and experience the near limitless benefits of this beautiful all ways pay game featuring grouped wilds which multiply for each wild appearing in a win. If that's not enough, the scattered Coin symbols are your key to an exciting free games feature that gives you a chance to activate the Extended Life Feature. During the free games feature, a value is hidden in the Life Force meter. If, after 10 spins, you haven't reached this value, you'll be rewarded with additional spins and great wins! With Eternal Love, your bankroll may just be able to achieve immortality.
How to Play:
Eternal Love is loaded with exciting gameplay and beautiful graphics, but it's still an extremely approachable game. That's because The Virtual Casino goes the extra mile to include games that are both fun to play and intuitive. To play Eternal Love, you'll first need to decide between the downloadable and instant play versions. The downloadable version is great for quick access on home PCs, while the instant play version is terrific when downloading isn't an option. Once the game is loaded, it'll be time to set your bet and spin the reels. Since this is an all ways pay game, you won't need to worry about choosing a number of paylines. Instead, simply select your total wager per spin and click the button. A big win awaits!
Game Controls:
If you like slots, then there's no reason to limit your options. The beauty of slot machines is that there is an infinite number of themes that can be incorporated into these games. Regardless of the theme, the controls and mechanics remain roughly the same, making new games approachable and familiar.
Bet: Selecting your bet in Eternal Love is as simple as clicking an arrow. With 243 combinations and five reels that pay all ways, you can't go wrong!
Lines: Some slots depend on lines to set your bet, but not Eternal Love. This game pays in all ways on every spin. This keeps things simple.
Spin: When your wager is set, there's only one way to get the game underway. Click the big 'Spin' button to get your eternal adventure started.
Autoplay: When all that clicking gets to be too much, turn to the autoplay feature to keep the reels spinning without any additional input from the player.
Playing Eternal Love is easy. That's why this game is sure to become a cult favorite amongst players at The Virtual Casino. Enjoy the brooding themes and beautiful graphics as your pursue a big time boost to your bankroll. With free games and features around every corner, this game's too good to miss.
Game Tips
Eternal Love, like every slot at The Virtual Casino, is powered by a random number generator. Developing a strategy to consistently conquer a random number generator is all but impossible, so it's best to relax and have a great time while playing. In order to make the most of your free spins and bonuses, be sure to bet as much as your bankroll will allow on every spin. After all, features are played at the wager of the triggering spin.
Game Rules
The rules in Eternal Love are simple. Spin the reels, and keep an eye out for scattered Coin symbols. Collect three or more to activate a free spins feature, which includes access to the innovative Life Force meter. After 10 spins, the Life Force meter will reveal a total and, possibly, trigger the Extended Life Feature.
Game Jackpot
Sometimes, slot machines feature huge progressive jackpots to keep players interested over the long haul. Other times, games offer an excess of features and free spins to make every spin feel like you've hit the jackpot. Eternal Love subscribes to the latter.
Game Symbols
Nine
Ten
Jack
Queen
King
Ace
Eternal Love
Aleron
Amelia
Isaiah
Brooch
Ring
Related Games