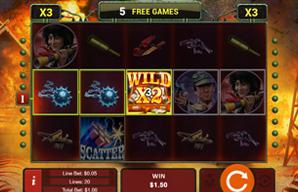 Real Time Gaming at the Virtual Casino now presents, for your personal entertainment, a truly unforgettable blast from the past! This brand new, action-packed game is the namesake of the 80s cult classic Fantasy Mission Force, a Hong Kong action-comedy film starring none other than the martial arts legend Jackie Chan himself. This 80s inspired slots game will not disappoint. Don't miss your chance to shoot for our top award: 50,000 times bet per line! In the famous movie, a lieutenant is leading a rescue mission to rescue four captured Allied Generals during World War II, with the promise of abundant compensation for setting them free. He leads a band of misfits venture into dangerous territory to save the generals and receive their reward for their heroic deeds.
Fantasy Mission Force is specially designed to ensure that you win as many free games as possible! When the Dynamite Free Games feature is triggered, prizes are TRIPLED during the free games. Check out this exciting game to try out these features yourself! Sign Up now get a 250% Bonus and enjoy 50 Free Spins! Just use the coupon
KUNGFUCOMMANDO
to enjoy your rewards and start playing!
The Dynamite feature can also add a Bickford Fuse to certain symbols. Keep an eye out for this because it can lead you to another cool aspect of the game, the Kaboom! Feature. When 3 or more Bickford Fuses appear, they trigger up to 3 extra free games for each fuse!
Just like the misfits in the movie entering a war zone, you'll be venturing into something risky, but with great potential for personal gains. They were sneaking into enemy territory to stage a rescue, hoping to be handsomely rewarded. You will be navigating the twenty variable paylines, watching for scatter and wild symbols to make your own fortune. If you keep a sharp eye, you'll sure to be rewarded for your efforts.
Look for your big winning combinations from left to right. As the prizes continue tripling and the free games pile on, you'll be well on your way to a growing pile of riches.
How to Play:
All you'll need to do is load the game and click play to get started. From there, you'll need to select your wager and number of paylines (we recommend leaving it at the maximum bet setting for the best chance to win big). Simply input your bet amount, click Spin and enjoy watching the reels whizz by! With a little bit of luck, you'll find yourself with wilds and scatters galore, with new features being triggered left and right! Just remember, you can always turn on the Autoplay feature if you prefer to sit back, relax, and watch your winnings pile up!
Game Controls:
Real Time Gaming consistently ranks among the most reliable companies in the gaming business, known for its captivating games, fantastic visuals, and exciting features. Fantasy Mission Force meets the same high standards as always. To get started, all you need to do is load the game, and use the arrow controls to select your bet amount. Once you're comfortable and happy with your wager, simply click the Spin button to get the reels rolling toward your very first major win.
Bet:
Use the up and down arrows to increase or decrease your bet. This amount can be changed before you hit the Spin button.
Spin:
To get the reels spinning, simply hit Spin. They'll spin and stop automatically.
Speed:
This adjusts the speed at which the reels spin, from slow to fast.
Paylines:
There are 20 variable paylines in Fantasy Mission Force. The best strategy is to select all, place your bet, and hit spin.
Autoplay:
Do you love watching the Dynamite and Kaboom features light up your screen over and over? Just click Autoplay, and you won't have to wait as you start and end spins on your own. The game is designed to take the last bet amount you placed, and it will spin the reels automatically for you. Once you're paid out for any wins, it will continue to do so again and again. This will continue until you turn the Autoplay option off.
Game Tips
Developing a reliable and effective strategy for modern slots games is no easy task because every available game is built around a random number generator or RNGs that ensures no predictable patterns emerge. As a result, the best way to get the most out of your time with Fantasy Mission Force is to evaluate your bankroll and choose a wager that will allow for a solid play session, regardless of whether you get on a hot streak or have a run of bad luck.
Game Rules
The rules of Fantasy Mission Force are easy to learn and even simpler to follow. There are 5 reels with 20 variable paylines, allowing you to choose how many you want to bet on. All symbols pay left to right, except for scatter symbols, which pay regardless of the position.
There are two WILD symbols, and these symbols appear in reels 2, 3, 4, and 5. They can stand in for all symbols, except for scatters. What about free games? If you spin and get a scatter symbol on reel 1 as well as a WILD on reel 5, that combination will trigger 7 extra free games! On top of that, prizes are tripled in the free games bonus, and the top prize is 50,000 times the bet per line.
How to play the Free Games Feature
Dynamite Free Games feature trigger: occurs when a scatter appears in reel 1 combined with a WILD in reel 5 and results in 7 extra free games.
Dynamite Free Games feature: prizes triple and the feature adds Bickford Fuse to some symbols.
Kaboom! Feature trigger: 3 or more Bickford Fuses trigger up to 3 extra free games per fuse.
All prizes are tripled in the free games feature.
Game Symbols
Bazooka Girl
Cigar Commando
Pistol
Crossbow
Flail
Gun Chief
Hunting Knife
Rockets
Jackie Chan
Telescope
Rockets 2
Pistol 2
Related Games