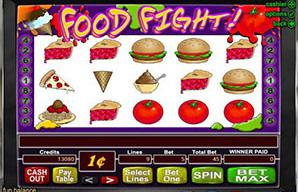 Forget table etiquette and let the wild fight begin in a fantastic slot machine frenzy packed with great prizes and tons of cash that will make this a enjoyable online experience. Food will fly up in the skies as players will unveil hidden bonuses through pizzas, deserts and burger symbols that enhance the action of a
online casino
joruney.
How to Play:
In Online Food Fight the goal is to line up matching symbols on the payline or paylines. Use the arrows to set a betting amount per credit, then click on the chips to add the amount of credits you wish to play. You can bet from one to 5 credits at a time. Click on the "Spin Reel" button or click the lever to spin the reels. You can also play 5 credits per line at a time by pressing "Bet Max". WH
Game Controls:
In the Food Fight game, the credit's value can be as low as $0.05 and as high as $5. You will have three casino chips with the following values: $1, $5, $25 and $100. Depending on the size of your playable bankroll, you will be able to select the amount you would like to bet on each spin by clicking on those chips. To remove chips from your bet and/or to cash out your winnings just press the "Cash Out" button. By collecting three specific symbols in a row you can unlock two bonus rounds.
Below is a brief description of each of the buttons found at the game of Food Fight .
Bet One:
The bet one button is used to select the amount of credits you wish to play according to the amount of money you have placed to bet.
Bet Max:
The bet max button plays all 5 credits per line at once.
Cash Out:
The cash out button places all the winnings in your bankroll and/or button returns all the money to your bankroll before spinning the reels.
Cashier Button:
The cashier button will take you to the casino cashier where you can view your account history, make deposits, request withdrawals, and redeem coupon codes.
Menu Button:
The menu button allows you to choose your preferences for the game in regards to view, sound and card speed.
Help:
The help button will take you to the RTG Food Fight page where you will be able to find the basic rules of the game along with Payouts.
Back:
The back button will send you back to the casino lobby and allow you to choose another game to play.
Game Tips:
Food Fight Tip 1:
Get to know the game thoroughly. This will help you understand what combinations will get you better payouts.
Food Fight
Tip 2:
In the food fight bonus feature you can get revenge and hit a person with a pie and earn coins for each person you hit.
Food Fight Tip 3:
Set yourself a bankroll per day and do not exceed it.
Game Rules
Please refer to the pay table displayed in the game. Payouts increase when you increase your bet per hand.