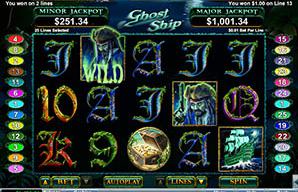 If you dream of sparkling blue waters and lush ocean scenery that'll make you feel like you're in paradise, find another water-themed game. In Ghost Ship, you'll find yourself at the bottom of the ocean battling ghosts. But as appealing as the view from the beach might be, nothing compares to the lost treasure with your name on it that's waiting for you in that invisible ship. And it could appear right before your eyes. You'll need to find the right symbols first, though. All it takes is a quick bet and the push of the Spin button to swim to lost riches. Ready to play this impressive 25-payline game that features two jackpots and a free-games round? Come on over and dive right in.
How to Play:
We may be dropping you into dark waters, but trust us. There are loads of rewards around every corner. That includes two jackpots, loads of free games, and big payouts. It's easy to find your way, even with ghosts scaring you along the way. Just start by making your bet and line selections. In combination, they determine your final bet per spin amount. To lock everything in, just hit the Spin button and you'll be good to go. You'll get paid out based on which symbols you've lined up. In some cases, you could find yourself playing free games on the house. Or should we say 'on the boat'?
Game Controls:
Never steered a ship before? Don't sweat it. We'll get you into those unchartered waters in no time. All you need to know is four different controls and you're on your way. Remember, if you forgot what you've read here and need help at any time, just click the Help button in the game.
Bet: To place your bet, start by using the up and down arrows next to the Bet button. Note that this will increase or decrease your bet per line, not your total bet amount. Choose between $0.01 and $5 per line.
Lines: Ghost Ship is a 25-payline variable slots game. That means it's completely your call. Choose one line, 25 lines, or anywhere in between.
Spin: To play the game, the Spin button is all you need. When you press it, the game will take your bet per spin amount and set the reels in motion. You'll get paid out if you land on the right symbols.
Autoplay: Rather put the ship on autopilot. Autoplay is all it takes. The ghosts will take control of the game, spin for you, and pay you out for any wins…and then spin again when you're done.
Game Tips
Would you dive into the ocean without an oxygen tank and some safety precautions? Definitely not. So don't play Ghost Ship without a bankroll plan. If you're thinking of bringing everything to the game, that's the wrong move. All casino games take you on trips up and down the victory ladder. The key is to capitalize on the upswings with the right bets. But if you blow your bankroll in one shot, you won't have a chance to ride the wave. So as a rule of thumb, never bet more than 3% of your bankroll on a spin.
Game Rules
There are a few rules you need to know about before you search haunted ships for hidden treasure. First, while there are two jackpots, they can't be grouped. What's more, while the Ghost Captain symbol can sub in for most other symbols in the game, it can't sub in for the Ghost Ship symbol.
Game Jackpot
Ghost Ship comes with two big jackpots. You'll find a major jackpot, which comes with a reset amount of an impressive $1,000. And you'll find a minor jackpot. That one comes with a $250 reset amount. Both pop randomly at the end of a game.
Game Symbols
Ghost Captain
Mermaid
Treasure Chest
Bell
Cannon
Ghost Ship
Nine
Ten
Jack
Queen
King
Ace
Related Games