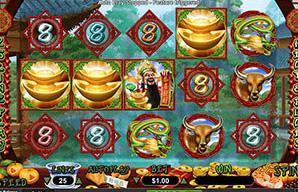 Get ready to be showered with luck, wealth, and opportunities galore. The God of Wealth is shining down on you at The Virtual Casino 24/7. Come take our 25-payline slots game for a spin and you could find yourself swimming in riches beyond compare. The God of Wealth delivers on his promises to make this your best year yet thanks to free games, a jackpot that resets at $1,000, and a top award of 10,000x your bet per line. You can play it right now at The Virtual Casino on your PC through downloadable software, on your Mac through Instant Play, and on the go on your touchscreen smartphone or tablet.
How to Play:
Don't worry about praying. The God of Wealth is in your corner with just a few clicks or taps. To get started, make your bet and line selections. You can wager anywhere from a penny per line all the way up to $5 per line. And you can play all 25 paylines, just one payline, or somewhere in between (whatever you're comfortable with). Your final bet is calculated by multiplying your bet per line by the number of lines you've selected. So playing all 25 lines at a penny per line will cost you $0.25 per spin. When you're happy with your numbers, click Spin to play. The reels will spin super-fast and stop before you know it. You'll then get paid out for any matching symbols, in accordance with the pay schedule.
Game Controls:
Who says you need to know how to control the universe to play God of Wealth? All you need to know are a few basic controls. We'll walk you through what each button in the game does, so you'll be good to go the second you fire up the online slots game at The Virtual Casino.
Bet:
Use the up and down arrows next to the Bet button to lower or raise your bet per line. It's not locked in until you hit Spin.
Lines:
You can play between one and all 25 paylines. You'll only get paid out for symbols that line up on a payline you've played, so it's wise to play all 25 of them.
Spin:
To place your bet, click the Spin button. The final bet per Spin is calculated by multiplying your bet per line by the number of lines you've chosen.
Autoplay:
If you'd like to sit back and just watch God of Wealth in action without having to do a thing, just turn Autoplay on. We'll spin and pay you out for wins, automatically. Then, we'll spin again and again.
Game Tips
At first glance, it might seem like winning big is entirely in the hand of the God of Wealth. But you do have some control. In this online slots game, you can control the number of lines you'd like to play—anywhere between one and 25 lines. It's tempting to make those line adjustments, especially if you're trying to conserve your bankroll. But if you play less than 25 lines, you risk missing out on matching up symbols on a payline. Instead, lower your bet per line. This way, you can play all 25 paylines and qualify for all winning opportunities.
Game Rules
There aren't a ton of rules to follow, but there are a few important things to consider. First, let's talk symbols. All symbols pay out from left to right, with the exception of the scatter symbols. Those ones pay in any direction. Second, the substitute symbol in the game can replace all other symbols, except for the scatter symbol.
Game Jackpot
It's not called God of Wealth for nothing. The rewards waiting for you in this online slots game are beyond anything from the world as we know it. And that includes a progressive jackpot, which rises as you play. The jackpot has a $1,000 reset amount, so after it's hit, it's ready to shower you again with riches.
Game Symbols
Tiger
Ox
Lion Head
Lantern
Dragon
God of Wealth
Blue 8
Bronze 8
Gold 8
Jade 8
Pink 8
Gold in Got
Related Games