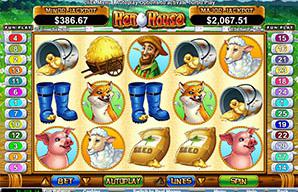 Some egg farmers are in business to provide people with healthy breakfasts. But at The Virtual Casino, we're laying way more on the table than just scrambled deliciousness. Enter the Hen House for your chance to catch a golden egg and find yourself enjoying a feast of wealth. You're in charge of the henhouse and there are tons of opportunities to get rich by finding the right eggs. Enjoy up to 25 free games, two big jackpots, and lots of cash hidden in every nest. But keep your eyes open for the rotten eggs. You'll want to avoid those at all costs and head straight for the golden ones instead!
How to Play:
Hen House is one of the easiest games to play at The Virtual Casino. The hens are busy keeping their eggs warm in this one, so they won't bother you. Get started by choosing how much you want to bet and how many lines you want to play. Feel free to bet anywhere from $0.01 to $5 per line and from one line through to all 25 lines. Just use the arrows next to the Bet and Lines buttons to adjust your selections. When you're ready for the hens to lay their eggs, just click the Spin button. The hens will immediately start clucking, the reels will spin, and they'll come to a stop one by one. You literally don't have to do anything. If you've matched up the right symbols, the game will automatically pay you out credits based on how much you've bet.
Game Controls:
Never farmed eggs before? Don't sweat it. It's really easy—and you don't even have to wake up at the crack of dawn to make sure the hens are doing their thing. Just follow these simple game controls to take charge of the coop.
Bet: You don't need a big nest egg to play Hen House. Just use the arrows next to the Bet button to lower or raise your bet. You can wager anywhere from $0.01 to $5 per line.
Lines: hen House is a 25-payline game. You can play all 25 lines, just one, or anywhere in between. Use the arrows next to the Lines button to change your lines selection.
Spin: Ready to watch the hens lay their eggs? Just click the Spin button to get the hens to start clucking.
Autoplay: Rather let the software do all the work? Turn AutoPlay on and you don't have to worry about hitting Spin. Ever. The software will do it automatically for you, right after your winning bets have been paid out.
You'll get paid out automatically every time you've matched up the right combination of symbols. Some symbols pay out more than others, like the Eggs for example. Hit three or more of those and you'll get to play a free games feature where up to 25 on-the-hen-house games could be yours.
Game Tips
A massive barn full of hens might feel overwhelming at first. It's a bit chaotic so we totally understand why you might want to decrease your paylines selection. We recommend not to. If you're short on funds, decrease your bet amount instead. By decreasing the number of lines you like to play, you risk missing out on a winning combination landing on a payline. And that could mean missing a big jackpot. Instead, lower your bet amount. You'll still get to play all 25 paylines, but it won't cost you as much, and you won't miss out on hitting it big.
Game Rules
The substitute symbol in Hen House is the Hen. Like many other online slots games, the substitute symbol can replace any other symbol in the game to help you complete a winning payline and come out with a win. However, in Hen House, the Hen symbol can't sub in for the Egg symbol.
Game Symbols
Egg
Bag of Seed
Haystack
Gumboots
Pail
Hen
Rooster
Henhouse
Farmer
Fox
Pig
Sheep
Related Games