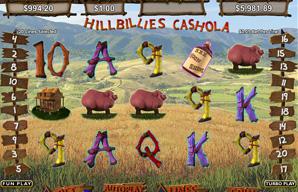 Yeehaw! Billy Bob, Billy Bubba, and Billy Jo are some generous folks, and they're ready to help you give your bankroll a taste of the White Lightnin' on your next trip to the casino. Cross your fingers, and root for a family reunion. As more of these lucky hillbillies join the party, you'll be able to multiply your winnings and collect extra bonus prizes. With 20 paylines and winnings of up to 10,000 times your bet on each line, there's always ample opportunity to win with this hilarious slots adventure. Pull on your overalls, and grab your banjo. It's time to strike it rich!
How to Play:
Playing Hillbillies Cashola couldn't be easier! First, take your pick between downloadable and instant play versions of the game. When you've got it loaded, you're ready to head to the backwoods and get your adventure started. Spin the reels, and wait for the hillbillies to grace you with their presence. If you see two on a single spin, you'll get eight free spins to supercharge your bankroll, but that's not all these generous folks have to offer. Hillbilly scatter symbols also substitute for all other symbols, multiplying your winnings by up to 20 times along the way! Take advantage of their generosity, and turn your next trip to the casino into a profitable venture. With Billy Bob and the family on your side, you can't help but feel like a winner.
Game Controls:
With the hillbillies, the only thing easier than winning is controlling the game. All you'll need to do to get your adventure through the country underway is decide on how many lines you'd like to play and how much you'd like to bet on each line. If it sounds simple, that's because it is!
Bet: Use the simple arrow controls to select your bet. The hillbillies would like to remind you that the more you bet, the more you can win!
Lines: Select a number of paylines, and choose how many opportunities you'll have to win. Play all of the paylines to avoid missing out on a big combination.
Spin: With all of the setup taken care of, you're ready to get those reels spinning! Simply click on the Spin button, and watch your bankroll grow.
Autoplay: Tired of all that clicking? The auto-play feature will keep the reels spinning without any feedback, freeing up your hands for some old fashioned banjo picking.
Billy Bob and the family don't want a bunch of fancy rules and difficult controls to get in the way of a good time, so this slots adventure is easy to play and even easier to win. Get those reels spinning, and prepare for a big combination to come your way.
Game Tips
Even though each spin is completely random, there's an easy way to make sure that you never miss out on a winning combination: play all 20 lines. By maximizing your paylines, you'll never need to worry about the agony of missing out on a big win because of a faulty bet. If you need to decrease your spending, consider adjusting your bet per line instead of the number of lines. With the luck of the hillbillies on your side, the winning combinations are sure to roll in!
Game Rules
Billy Bob doesn't like getting bogged down with pesky rules, so Hillbillies Cashola keeps it simple. The game features 20 paylines with a top award of 10,000 times your bet per line. All symbols pay from left to right, except for the Hillbilly scatter symbols, which pay in any direction.
Game Jackpot
Every spin gives you the chance to collect the progressive jackpot, which can be awarded randomly at the conclusion of any game. With a reset amount of $1,000, it's always a lucrative way to end a spin of the reels.
Game Symbols
Nine
Ten
Jack
Queen
King
Ace
Billy Bubba
Billy Jo
Billy Bob
Dog
Moonshine
Pig
Related Games