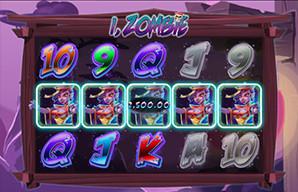 As the military heavily parole the city, and the police desperately try to keep innocent citizens inside their homes at all costs, the sinister sounds of 1,000 rotten corpses can be heard echoing throughout the streets. Authorities demanded stricter measures be implemented, and a core team brought together to help protect the city whilst they desperately attempted to search for a cure. But it wasn't enough and time was not on their side...
As the hunger for human brains grows stronger by the day, and as the infection begins to spread vastly with every new victim claimed, the lack of reinforcements and manpower meant the team were not strong enough to effectively handle the threat, and consequently failed their task…
With all hope seemingly on the brink of being lost, what's left of the city is now calling on their most elite fighters and backup players to join forces, and put an end to this destruction and ruin once and for all…
An all-new action-packed and gruesome slot game has arrived at The Virtual Casino! I, Zombie is a deadly, 5 reel phenomenon with 25 variable paylines, which will have you shaking at the knees and gasping for breath with each spin. Only the bravest and most courageous will prevail over the ravenous, blood-spattered zombie army that lurks and waits for you in the deepest and darkest depths of the shadows!
Register today and get a whopping 250% No Max Bonus + 50 free spins for a $50 deposit or a 275% No Max Bonus + 50 free spins for a $75 deposit, just enter the Bonus Code ROBZOMBIE at the cashier.
Stay alert and be sure to keep a look out for the I, Zombie scatters and wild Mirror icons during your mission, as displaying these throughout the game will trigger those awesome, and much-desired bonus rounds! Here you'll gain exclusive access to free games, free spins and have even more opportunities to bash and wipe out the undead whilst you reap up some very attractive prizes and rewards. With a top jackpot of 7,500 times the total bet, you'll spend hours eating your heart out on this spooky, innovative online slot game from The Virtual Casino. At least if the monsters don't eat it first that is!
How to Play:
All you'll need to do is load the game and click play to get started. From there, you'll need to select your wager and number of paylines (we recommend leaving it at the maximum bet setting for the best chance to win big). Simply input your bet amount, click Spin and enjoy watching the reels whizz by! With a little bit of luck, you'll find yourself with wilds and scatters galore, with new features being triggered left and right! Just remember, you can always turn on the Autoplay feature if you prefer to sit back, relax, and watch your winnings pile up!
Game Controls:
Real Time Gaming consistently ranks among the most reliable companies in the gaming business, known for its captivating games, fantastic visuals, and exciting features. I, Zombie meets the same high standards as always. To get started, all you need to do is load the game, and use the arrow controls to select your bet amount. Once you're comfortable and happy with your wager, simply click the Spin button to get the reels rolling toward your very first major win.
Bet: Use the up and down arrows to increase or decrease your bet. This amount can be changed before you hit the Spin button.
Spin: To get the reels spinning, simply hit Spin. They'll spin and stop automatically.
Speed: This adjusts the speed at which the reels spin, from slow to fast.
Paylines: There are 25 variable paylines in I, Zombie. The best strategy is to select all, place your bet, and hit spin.
Autoplay: Just click Autoplay, and you won't have to wait as you start and end spins on your own. The game is designed to take the last bet amount you placed, and it will spin the reels automatically for you. Once you're paid out for any wins, it will continue to do so again and again. This will continue until you turn the Autoplay option off.
Game Tips
Developing a reliable and effective strategy for modern slots games is no easy task because every available game is built around a random number generator or RNGs that ensures no predictable patterns emerge. As a result, the best way to get the most out of your time with I, Zombie is to evaluate your bankroll and choose a wager that will allow for a solid play session, regardless of whether you get on a hot streak or have a run of bad luck.
Game Rules
The rules of I, Zombie are just as simple as all other slots! In this game you have 5 reels with 25 variable paylines to bet on. You also have a standard wild (I, Zombie) and s scatter (Mirror). Both of these icons are your gateway to those amazing free games which get triggered anytime 3 or more display themselves on the reels. Any additional Wilds or Scatters that show up during these 'free game' rounds will trigger an extra 2 games, but if you get 4 scatters at once – your prizes are doubled; get 5 or more and your prizes are tripled! Any retriggers during these rounds always results in additional games too!
All icons in I, Zombie play left to right apart from the scattered Mirror symbols, which pays regardless of where they appear on the reels.
How to play the Free Games Feature
2 free games are awarded for each I, Zombie or Mirror appearing anywhere on the triggering game.
All I, Zombie and Mirror symbols that appear during free games will reveal extra I, Zombie Wilds.
Prizes are doubled if 4 scatters triggered the feature or tripled if 5 scatters triggered the feature.
Any retrigger will add extra games to the current feature only.
Free games are played at the lines and bet of the triggering game.
Related Games