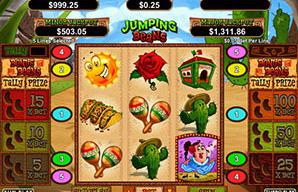 The time to grab your sombrero and party hard with Jumping Beans has arrived at Virtual Casino with the release of the latest 3 reel slot from Real Time Gaming!
With fun loving characters such as Bouncing Mr. Bean, Dancing Mrs. Bean & the fierce Bandido Bean, Jumping Beans is definitely a game choice that was missing in our cool online slot game collection. You will enjoy Jumping Beans along with an assortment of delicious tacos, happy suns and spiky cacti.
Jumping Beans slot game includes a fun new feature: the great new 'Auto Nudge', this feature allows any Bean symbol that lands one place off-screen to automatically be nudged back into the reel area; with this feature any initial pays are awarded!
You can also collect a bunch of Beans through the free games and bounce your way towards some of the biggest bonus prizes of up to 100x your bet.
How to Play:
Once you go into the game, make sure you choose the amount of money you want to be on each spin. Once the chosen bet is set, click the spin button to play the game manually or autospin for automatic playing.
This game includes some great bonus features: 10 free games are awarded when 3 Mrs. Bean symbols appear anywhere on a spin, after any Auto Nudge. Also when Mr. Bean, Mrs. Bean and Bandido Beans appearing during free games, you can accumulate on the Bonus Beans Tally and get awarded a Bonus Prize at the end of the feature.
Game Controls:
Jumping Beans isn't just another great game to play; it is also one of the easiest games released this year. Jumping Beans include the following game controls:
Bet:
Gives you a chance to choose the exact amount of money you want to bet on each spin. This is a great feature as it helps the player customize the game according to his or her preferences.
Spin:
The "spin" button makes the three reels spin. Hit this button only when you have set the amount of money you want to bet per spin.
Autoplay:
This allows players to set up the game to spin automatically. The game does not get played by itself as you need to set up your preferences beforehand.
Now that you are fully familiar with the Jumping Beans game controls you are ready to roll and have fun with our crazy little jumping beans and their adventures!
Game Symbols
Bandido Bean
1 Taco
2 Tacos
3 Tacos
Jumping Castle
Cactus
Mr Bean
Maracas
Guitar
Rose
Sun
Mrs Bean
Related Games