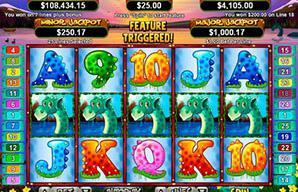 No need to be afraid of monsters, especially when it comes to ones that are related to enigmatic world known legends: Loch Ness Loot is the newest slot game you can play at Virtual Casino and it is filled with prizes and innovative design, as well as the very exiting Win-Win Feature. Lochie will guide you through the depths of Loch Ness all the way to the hidden treasure which can be yours with only a few spins!
How to Play:
Playing Loch Ness Loot is fun and entertaining and not really that different from playing the most popular online slots we carry at Virtual Casino. On this 25 payline online slot game all you need to do is choose how much money you want to bet per line, how many lines you want to play (remember that the Win-Win feature is only activated if you play all 25 lines) and once you have made your decision, the game is on!
Game Controls:
With Loch Ness Loot slot machine, the long list of incredibly awesome slot games offered by Virtual Casino grows, giving you more chances to play cool games, every day! This new slot game includes the common game controls you will find in any 25 payline slot, which will be a main part of your overall experience. Here is the main game controls list found at Loch Ness Loot:
Spin:
The "Spin" button is the most important game control of Loch Ness Loot as it manages when the reels will begin spinning. Make sure you have chosen your bet amount and how many lines you want to play before hitting this button.
Autoplay:
The "Autoplay" is not only a regular button: it will provide you with the chance to have the game played automatically for you. When you click on it, the Autoplay button will open a window of choices for you to customize and personalize your game, after you do this then you can just sit back and relax while you wait for your jackpot!
Help:
The "Help" button is carefully set on the game to take to a set of Frequently Asked Questions (FAQ's) about playing online slots at the Virtual Casino and the Loch Ness Loot game in general. You will find answers to most of your questions here. In the event of not finding a precise answer here, please feel free to log into our Live Chat assistance for a one on one session with our customer services agents.
Game Tips:
There are a few things and tricks you can do to make sure you make the best out of your time playing Loch Ness Loot, we will share some with you: When you choose how many paylines you want to play, make sure you choose all 25paylines, as it is the only way the Win-Win Feature will be activated.
If you want to play on Autoplay, be careful when choosing the settings, so they match your game style correctly. Last but not least, the more you bet the more you win, but you should always keep track of your moves.
Game Rules
There are only a few game rules that involve playing Loch Ness Loot online slot: Make sure you take a few minutes before playing to choose what the betting amount and how many lines would be played on each spin. On this game Lochie the Monster substitutes for all other symbols, even scattered Treasures. The last rule refers to the Win-Win Bonus Feature, as it is only active when 25 lines are being played.
Game Symbols
Lochie
Ten
Jack
Queen
King
Ace
Treasure
Rowboat
Photograph
Newspaper
Camera
Man
Related Games