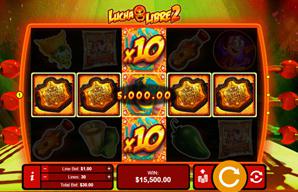 Get into the thrill of the fight in this epic sequel to the classic Lucha Libre slots game. Lucha Libre 2 brings back the ever-entertaining master wrestler Taco Malo to battle it out in a body slamming bout for the big win with the ever hulking and slightly sinister Nacho Friend.
Brought to you by the wizards at Real Time Gaming, this hilariously entertaining knock 'em down, smash 'em up fight to the finish for the championship title offers not one, but two spectacular feature rounds, Time to Rumble and Fist of Fury, that offer stupendous, bone jarring free spins and prize multipliers.
How to Play:
All you'll need to do is load the game and click play to get started. From there, you'll need to select your wager and number of paylines (we recommend leaving it at the max setting of 10). Just input your total bet, click spin and take flight! With a little bit of luck, you'll find yourself with plenty of wilds and scatter symbols. And remember, you can always turn on Autoplay if you just want to sit back and enjoy the show.
Game Controls:
Real Time Gaming is renowned throughout the business for its intuitive games and fantastic designs. Lucha Libre 2 is no different. All you'll need to do to get started is load up the game, and use the arrow controls to select your wager. When you're happy with your bet, just click the spin button to get the reels going toward your first big win.
Bet:
Use the up and down arrows to modify your bet. This controls your bet per spin, which isn't locked in until you hit the Spin button.
Spin:
To get the reels moving, just hit the Spin button. They'll spin and stop automatically.
Speed:
There are 30 paylines in Lucha Libre 2. The best strategy it to select all, place your bet and hit spin.
Autoplay:
Want those gems to fall even faster? Just turn Autoplay on. The software will use the last bet amount you made to spin for you automatically. Once you're paid out for any wins, it'll do so again and again. And it'll keep going until you turn Autoplay off.
Game Tips
Developing a solid, effective strategy for modern slots games is no easy task, because every available game is built around a random number generator that ensures no predictable patterns emerge. As a result, the best way to get the most out of your time with Lucha Libre 2 is to evaluate your bankroll and choose a wager that will allow for a solid play session, regardless of whether you get on a hot streak or have a run of bad luck.
Game Rules
The rules of Lucha Libre 2 are easy to follow. There are 5-reels, 30 paylines, and all symbols pay left to right with the exception of the scattered "Mucho Mayhem!" symbol, which pays any direction. Scattered Fist pays left to right except during the Fist of Fury feature.
The Wrestlers is the Wild symbol, and counts for every other symbol in the game in normal play. "Mucho Mayhem!" and the Fist are the scatter symbols.
Game Symbols
Mucho Mayhem
Fist
Nacho Friend
Champion Belt
Chip with Guacamole
x2
Trophy
Taco Malo
Tequila Shot
Referee
Hot Sauce Bottle
x3
Related Games