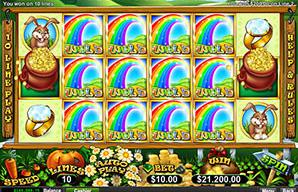 Leprechauns are coming out of the woodwork, and they're ready to lead you to the end of the rainbow to claim your very own pot of gold. Lucky 6 is an exciting, six reeled slot that offers fortunate players plenty of chances to maximize winnings with free games and prize multipliers. The game's 10 variable paylines offer rewards in both directions, and the 'LUCKY 6' scatter symbols are ideal for triggering a host of exciting bonuses that really up the ante. There's no time like the present to begin your journey toward huge winnings with this brand new slot from Real Time Gaming.
How to Play:
If you've ever played a slot from Real Time Gaming in the past, you'll likely be very familiar with the controls of Lucky 6. However, the rules feature interesting twists on the classic slot formula that can really boost your winnings. For starters, the game features six reels with 10 variable paylines. Lines one through five pay from left to right, while lines six through 10 pay from right to left. Keep an eye out for the 'LUCKY 6' scatter symbols, because they're your ticket to free spins and awesome bonuses. Collect four or more scatters on a single spin to get the fun started, and collect them on the same line for an even better bonus. Today's the day to get lucky with Lucky 6.
Game Controls:
As with every game from the master game developers at Real Time Gaming, Lucky 6 features intuitive controls that are great for getting to the action without enduring a frustrating learning curve. All you'll need to do to get started is load the game, and the polished design will guide you from there.
Bet:
Choose your wager with the intuitive arrow controls. All bonus features are played at the triggering bet, so make every spin count for the best results.
Lines:
Lucky 6 offers 10 chances to win with every spin. Lines one through five pay left to right, while lines six through 10 pay right to left.
Spin:
When you've selected your wager, the only thing left to do is click the spin button and watch the reels bring home some winning combinations.
Autoplay:
All that clicking can be a real drag, right? Enable the game's autoplay feature, and the reels will keep spinning without any additional input from you.
Now that you're familiar with the specific feature of Lucky 6, it's a great time to take a dance with Lady Luck on your way to your first big win. Whether you enjoy the interaction of clicking the spin button or just want to watch the game play for a while, this slot has you covered.
Game Tips
If you're looking for game-changing tips that will shift the odds permanently in your favor, you just may be out of luck. Like all modern slots, Lucky 6 is driven by a random number generator that determines random results with each passing spin. However, that doesn't mean a decent strategy can't improve your long-term results. Consider betting all 10 lines on each spin to maximize your odds, and choose a wager that's the largest your bankroll will allow to make the most of every combination.
Game Rules
There aren't many rules to get in the way of the fun with Lucky 6. Players are free to focus on racking up winning combinations instead of trying to remember complicated mechanics that get in the way of gameplay. Just remember to look for the 'LUCKY 6' scatters, and you'll be fine.
Game Jackpot
Lucky 6 doesn't feature a jackpot. Instead, the game offers a multitude of free spins and bonuses to turn every win into something a bit more memorable. The key to these bonuses is the 'LUCKY 6' scatter symbol. Collect four or more to trigger free spins and tons of awesome features.
Game Symbols
L
U
C
K
Y
Six
Rainbow
Leprechaun
Boots
Horseshoe
Clover
Pot of Gold
Related Games