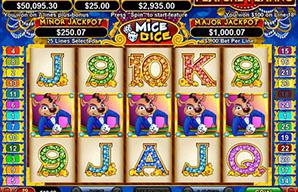 This game is for all of the cheese lovers looking forward to get that extra bite. With Mice Dice you will play for a big chunk of winnings and have lots of fun at the same time. Don´t be fooled by the mice, they will unlock all sorts of bonuses and special features for you. There are also several jackpots waiting for you.
How to Play:
When you open Mice Dice, the first order of business is to decide how many lines you want to play, you can choose anywhere from 1 to 25 lines. Right after that, select the amount you want to bet for every line and when you are ready start the action just click the "Spin" button.
The Dice is the substitute symbol and can be played for any other symbol, except for the scattered Casinos. When the Dice appear it will trigger free games according to their sum. There is also a price multiplier of up to 6 times.
The scattered symbols, played by the Casino, will definitively increase your winnings, and will be added automatically to your bankroll on every game.
Game Controls:
This is a list of all of the controls you will need to play and win in Mice Dice:
Bet:
To increase and decrease the bet amount you want to play on every line, you can use the up and down arrows (up to 25 lines total per spin).
Spin:
When you have set the amount and the number of lines you want to play, click the "Spin" button to start the game.
Autoplay:
With this function you can pre set the number of lines, the amount you want to play and the number of spin. The game will do the rest on its own.
Cashier Button:
From here you can make any transactions you want, from depositing more money into the account to cashing out your winnings. You will also be able to review all of your transaction history here.
Menu Button:
This will allow you to adjust the sound and speed of play.
Help:
The Help button will take you to the assistance page for Mice Dice. Here you will find anything you need, from Bonus rules to top award Jackpot amounts to the Scatter system and overall game play.
Back:
This button will take you back to the casino lobby, where you can choose another game to play.
Game Rules
You can choose from 1 to 25 paylines.
Scatter wins are added to line wins.
Multiple jackpots awarded.
Win-Win Feature.
Feature guaranteed function available.
Game Jackpot Tips
Jackpot Tip 1: In Mice Dice, the major and minor jackpots have no upper limit; they both increase in value with each bet until they are won. The minor Jackpot resets to $250 and the major Jackpot to $1000.
Jackpot Tip 2: The game features multiple random Jackpots that you can win at any given time.
Game Symbols
Nine
Ten
Jack
Queen
King
Ace
Dice
Cheese
Croupier
Mrs. Mouse
Casino
Car
Related Games