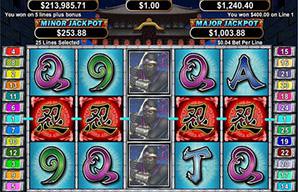 Get ready for the ultimate high-flying, back-flipping, double-kicking adventure you've ever been on. Welcome to Ninja Star, an unreal online slots adventure that's way more rewarding than any ninja movie you've seen before. Ninja Star makes you the ultimate Japanese warrior and hands you the power you need to take down riches like never before. Don your ninja outfit and uncover mysterious rewards like a top award of 15,000x your bet, two jackpots, and large payouts wherever you look.
How to Play:
It's easy to play Ninja Star. Just start by choosing the number of lines you'd like to play and your bet per line. Remember, you need the right number of credits in your account before you can play, so make sure you're loaded. When you're happy with your selections, click the Spin button.
The reels will start spinning, and then within a matter of seconds they'll come to a stop. You'll get paid out based on which symbols you've managed to land on. If you hit a Ninja Star symbol, you've hit the scatter symbol. Scatter wins are added to line wins and multiplied by your bet. There's also a Ninja symbol to watch out for. That's the substitute symbol and that means it can substitute for all other symbols in the game, except for the Ninja Star symbol. This is key because it helps you complete winning combos, ultimately helping you make more money.
And don't forget. Ninja Star comes with a special Ninja Scroll bonus round. You'll get to play it by hitting three Logo symbols from left to right.
Game Controls:
Don't worry about not knowing how to do a double leg kick halfway through a backflip. We've got all the game controls you need to become a winning ninja.
Bet:
Control exactly how much you want to bet per line by clicking the up arrow to raise or bet and the down arrow to lower it.
Lines:
This one works just like the Bet button, except instead of controlling the amount you're betting, you're controlling the number of lines you want to play. Choose between one and all 25 lines.
Spin:
All set with your bet and line selections? Click Spin to let the ninjas loose.
Autoplay:
Want to let the ninjas have nonstop fun? Click AutoPlay. The app will spin the reels each time bets are paid out or bonus rounds are played.
Game Symbols
Nine
Ten
Jack
Queen
King
Ace
Ninja
Sword
Temple
Ring
Logo
Ninja Star
Related Games