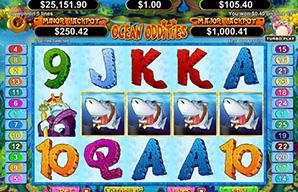 Throw your wetsuit on, grab your diving gear, and get ready to laugh all the way to the underwater bank. Ocean Oddities is one zany online slots game that will make you want to never come up for air. It's not just the crazy Dogshark and Kingfish that will leave you howling. Ocean Oddities comes with a top award of 40,000x your bet per line, a major jackpot with a $1,000 reset amount, a smaller jackpot with a $250 reset amount, and so many opportunities to win big prizes and free games around every bend.
How to Play:
Don't worry about practicing for a deep ocean dive in a shallow swimming pool. It's easy to jump right in and play like a pro. Just start by selecting the number of lines you want to play (anywhere from one through 25) and your bet per line. To lock in your bet, just click the Spin button.
The reels will come to a stop within a few seconds and you'll get paid out based on which symbols you've managed to line up. If you're wondering which symbols lead to big rewards, just click the Help button while in the game for a full payout schedule. For added excitement, take a screenshot of the payout structure and keep it open next to the game while you play. It's a great way to liven things up and get excited about each symbol as it pops up.
There's one symbol you'll want to keep your eyes open for. It's the Pearl symbol and if you hit three of them or more from left to right, you'll get to play 10 free games on the house. And remember, sometimes you'll win big without even realizing you've hit any matching symbols. Ocean Oddities includes two mega-sized jackpots that pop randomly!
Game Controls:
The ocean is deep and there are tons of things to explore. But you can get to the action faster when by knowing how to control the game.
Bet: Ocean Oddities puts you in full control of your betting future with every spin. Simply use the up and down arrows to select your bet per line.
Lines: There are 25 paylines to choose from. Feel free to play one line, all 25, or anywhere in between. The more lines you play, the greater your chances will be of lining up symbols. Remember, if symbols line up on a payline you didn't play, you won't win.
Spin: When you're happy with both your bet and line selections, click the Spin button to start playing. Don't forget, your final bet is your bet per line multiplied by the number of lines you've locked in.
Auto Play: With AutoPlay on, you don't have to adjust your bet and line selections after each Spin. Instead, the software will spin automatically for you using the last bet and line selections you played.
Game Symbols
Nine
Ten
Jack
Queen
King
Ace
Pearl
Kingfish
Seahorse
Flying Fish
Sea Urchin
Rex
Related Games