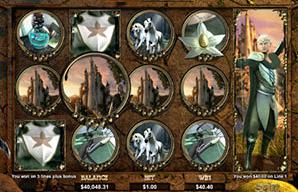 You won't believe your eyes when you see this one. The Virtual Casino brings you our very first 3D game. It's called Orc vs. Elf and it's beyond legendary. This 5-reel, 25-payline slots game transports you into the heart of an epic battle in Middle-Earth where you get to live out the ultimate fight between Orcs and Elves
Just as you'd expect, Middle Earth is packed with hidden creatures. And the rewards lurking behind every nook and cranny are just as plentiful. Orc vs. Elf is packed with 14 separate features—including 7 on the Trail to Orcholme and 7 on the Road to Elveros. But this game isn't about sitting back and pressing the Spin button. It's about choosing your path wisely, racking up Victory Points and going to battle to take control of this mythical world!
How to Play:
Don't let all the bonus games, Victory Points, and feature trails fool you. It's actually really easy to play Orc vs Elf. Start off by making your bet and line selections by using the arrows next to each button. Remember, you can bet anywhere from $0.01 to $5 per line, and you don't have to play all 25 lines either. Feel free to bet between one line and all 25—it's your call. When you're all set to go on your epic journey, click the Spin button. When the reels come to a stop, you'll get paid out based on what symbols you've hit. Some symbols pay out more than others. For example, if you hit three Battle Bonus symbols, you'll get to watch the Orc and Elf battle it out. And depending on whether your chosen character wins, you'll get to play a special feature game!
Game Controls:
You might not have the physical prowess of an Orc or an Elf, but that doesn't mean you can't pretend to be one. As long as you're familiar with these game controls, you're good to go.
Bet: Start off by making your bet selections. Remember, you can bet anywhere between $0.01 per line and $5 per line.
Lines: There are 25 paylines in this 3D slots adventure. The game is set to 25 paylines automatically, but feel free to select fewer lines.
Spin: All set to go on your Middle Earth adventure? Just click the Spin button to see the 3D action unfold right before your eyes.
Select Your Champion: Before the Battle Bonus, you'll get to pick who to back in an epic fight, the Orc or the Elf. Choose wisely because it could lead to big payouts through a bonus round.
That's all there is to it. If you've successfully matched up the right symbols, you'll get paid out based on what the symbols are worth and how much you've bet. And don't forget, some symbols lead to special bonus rounds, where you can win even more and collect Victory Points.
Game Tips
Look for the Battle Bonus symbol in Orc vs Elf because it's your ticket to racking up Victory Points. If your chosen character can collect three of them, you'll be the champion and get to play a special feature where hundreds of free games could be yours. The bonus feature you get to play is determined by how many battles it took you to collect those three Victory Points. So play your Battle Bonus games wisely!
Game Rules
If you trigger a feature game in Orc vs. Elf, you're free to play the feature game or decline it. If you choose to decline it, you'll remain on the feature trail. However, if you accept the triggered feature, your feature trail will reset. Remember, some feature games are more lucrative than others, so you might benefit from passing on the feature if the bonus isn't what you're after.
Game Symbols
Elf
Elf Palace
Bow Quiver
Amulet
Potion
Elf Shield
Orc
Orc Fort
Sword
Banner
Skulls
Orc Shield
Related Games