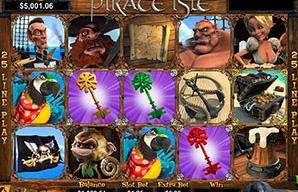 The rollicking band of misfit pirates has just boarded their ship, and they're waiting for you to join them on a voyage to the mysterious Ghost Island. You'll have a chance to unearth hordes of ancient treasure as you dodge the dreaded Ghost Pirate. Collect the Treasure Keys along the way, and you could be rewarded with up to 300 free games to boost your bankroll in a major way. If you're feeling particularly boisterous, the thunderous Broadside Feature, which features a series of ship-to-ship sea battles and an opportunity to claim the Pirate's Treasure Jackpot, will be just the thing to put your sea legs to the test.
How to Play:
This stunning slot game features intuitive controls and easy-to-follow rules that will suit even novice pirate adventurers. Simply take your choice between the downloadable and instant play versions of the game, and prepare to set sail on an epic adventure. Choosing your bet is easy to do with the simple arrow controls, and you'll have a chance to play up to 25 paylines in order to maximize your chances.
Keep an eye out for special characters along the way. Galleons and Treasure Chests are scatters, which means that they pay in any direction. Collect three or more of either symbol on a single spin, and you'll be on your way to an exciting feature. Skeleton Key symbols, on the other hand, serve as wilds and can even double your winnings!
Game Controls:
If you're familiar with Realtime Gaming slots, you'll be happy to know that Pirate Isle follows their tried and tested formula when it comes to controls. Use the intuitive arrows to set your bet, then click on the spin button to get the adventure underway. Who said that swashbuckling had to be difficult?
Bet: Set your bet with the arrow controls. Remember, the number displayed is your bet per line, so your actual wager could be much larger than this number.
Lines: Select your paylines using the same arrow control scheme. Pirate Isle offers up to 25 lines on each spin, giving you plenty of chances to hit it big!
Spin: When you're happy with your wager, it's time to get those reels spinning on the way to your first big win. Simply click the spin button to start!
Autoplay: If all of that clicking is getting you down, make things simpler by enabling auto-play. This feature will keep the reels spinning with no additional interaction.
Now that you're familiar with the game's controls, grab your finest eye patch and get on your way to Pirate Isle. With a fully animated symbol set, hilarious onscreen characters and two massive features, this adventurous slot is too good to miss. Set sail for adventure and riches, me hearty!
Game Tips
So, you're looking for some tips to enhance your swashbuckling? Well, you're in luck! While aboard the ship, keep an eye out for the five Treasure Keys, because they can seriously boost your winnings. If you can find the whole set, the dreaded Ghost Pirate just may reward you with up to 300 free games. As far as Ghost Pirates go, he's really not that bad! Aside from that, always play as many lines as possible to maximize your chances.
Game Rules
The only rule on the high seas is the one about gold, but it's probably not the golden rule you're thinking of. In true pirate spirit, Pirate Isle keeps the rules to a minimum in order to maximize the adventure. Remember the scatters, wilds and Treasure Keys, and you'll be good to go!
Game Jackpot
If you want to claim the jackpot, you'll need to prove your skills in a bit of ship-to-ship combat. Defeat five opponents in the Extra Bet Broadside Feature, and the substantial Pirate's Treasure Jackpot will be yours for the taking.
Game Symbols
Gold Key
Emerald Key
Ruby Key
Sapphire Key
Diamond Key
Skeleton Key
Pirate Flag
Treasure Chest
Map
Galleon
Pirate
Pirate Captain
Related Games