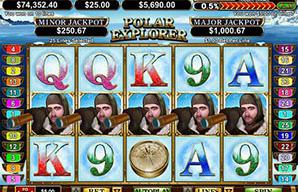 Virtual Casino brings you the newest released by RTG Polar Explorer! A wonderful adventure in the Arctic turned into an online slot game that will certainly give you hours and hours of entertainment. On this casino game you will help the Polar Explorer on his search for the hidden treasures and be a part of his exciting adventure in the snowy, cold weather of the Arctic. The game includes many features that will give lots of free games and more opportunities to win with its Feature Guarantee.
How to Play:
Playing Polar Explorer at the Virtual Casino is really easy: log into your account (whether is of our download casino version or on webplay) Go to our list of 5 reel online slots and choose the game. Once you have it on your screen go ahead and choose how much you want to bet per line, per spin, how many paylines you wish to play and hit the Spin button to start the fun!
In the case that to you enjoy the Autoplay more, all you need is to click the Autoplay button and customize your game choices before hand, as well as to choose your bet per line and your paylines. After this you can just set up the game and wait for your jackpot.
Game Controls:
Polar Explorer Online is a 5 reel online slot that requires basically the common user friendly game controls every slot lover is familiar with. The game is easy to play and provides users with a carefree gaming option. The common game controls found are:
Bet:
The bet button includes two arrows to choose the betting amount of your choice. Click on the arrows to select your desired betting amount per spin.
Autoplay:
The Autoplay button allows players to carefully customize their automated game, choosing the way they want the game to be played for them. Once you have set it up to your game choice all you need to do is wait to win the jackpot.
Spin:
The Spin button makes sure that the magic happens: after you have chosen your desired bet per spin and how many paylines you wish to play, the spin button makes the reels spin away.
Help:
If you click on the Help button you will be taken to a comprehensive and clearly written Frequently Asked Questions (FAQ's) page where you can find solutions and answer for the most common doubts players experience with this and many other 5 reel online slot machines.
These game controls are located in convenient places on your game screen where you can easily find them and use them, it is important that you choose your bets and paylines carefully before you start playing so you make the most out of your game and don't lose your bankroll.
Game Tips:
Players can attempt to trigger the Feature Guarantee at any time as long as the paid games remaining is less than 125 by hitting "Play" on the Instant Trigger Chance. Once there you can "Return to Game" to abort the attempt or just hit "Play" to try to trigger a feature. It is important to keep in mind that if "Play" was selected the Feature Guarantee meter will reset to 125 paid games remaining no matter what the outcome is.
Game Rules
Polar Explorer is a really easy game to play: all you have to do is make sure you set you bet amount and chosen paylines to play on each spin before hand and you will be ready for the fun. Also keep in mind the requirements to trigger the features and make the most out of your game.
Game Symbols
Nine
Ten
Jack
Queen
King
Ace
Ship
Seal
Compass
Narwhal
Polar-Bear
Explorer
Related Games