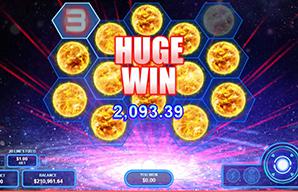 Pulsar is the brand-new celestial slot game from The Virtual Casino! Enter the interplanetary realm of the stars in Pulsar! Intergalactic adventure awaits you in Pulsar, the latest slot game release from the space cadets at Realtime Gaming. Spin up cosmic symbols, exploding stars, and cascading wins. The Pulsar supercharges the grid to explode stars and create cascading cash! Hours of fun and adventure await you in the Pulsar slot game.
Pulsar is the newest installment in the space-themed slot series, with a 3x5 honeycomb grid with 20 fixed paylines. Pulsar is an exciting journey into the center of the universe, where neutron stars deliver explosive wins. It's one small step for slots, one giant leap for stellar wins! The maximum award is 150 times the total bet. Play Pulsar via download, instant play, or mobile.
Sign up with a 300% No Max Cashout plus 30 spins on Pulsar for $30 deposit, 3x redemptions! Simply use the code PULSAR300.
How to Play:
Load the game and click "play" to get started. There are 20 fixed paylines and a 3x5 honeycomb grid. Next, select the betting amount. We advise betting max coins for max prizes, but the wager size can be adjusted using the buttons at the bottom of the screen. Once you've picked your wager amount, simply click the Spin button and get ready for a fantastic ride! If you'd rather not spin manually, turn on Autoplay to auto-spin the reels for you.
Game Controls:
Realtime Gaming is a top provider of impeccable game performance, high-definition graphics, immersive sound, and fun features. Pulsar is their latest space-themed slot game. To begin, load up the game and use the buttons to select your wager amount. Once you're satisfied with the amount you've bet, click the Spin button to charge the mighty Pulsar star for explosive action and huge wins!
Bet: Use the - and + arrows to change your bet, then hit the spin button.
Paylines: This game features a 3x5 honeycomb grid and 20 fixed paylines.
Spin: To set the reels in motion, select spin.
Autoplay: The Autoplay feature will spin the reels automatically and can be turned on/off at your discretion during play sessions.
Game Tips
Coming up with an effective strategy for modern slots games is difficult, as all slots use random number generators (RNGs). These make it impossible to predict any outcomes or results during gameplay. We suggest paying close attention to your bankroll and choose a wager that will allow continuous play sessions to fully enjoy the gaming experience of Pulsar.
Game Rules
The rules of Pulsar are simple. There is a 3x5 honeycomb grid and 20 fixed paylines. Set your bet size and spin. Pulsar powers two special features for more ways to win.
The top award is 150 times the total bet.
Pulsar Cascading Wins Feature
Any winning symbols disappear after pays are awarded and are then replaced with new symbols. New winning combinations are then possible.
Cascading of symbols continues after each win until no further winning combinations occur.
Cascading of symbols can result from a Neutron Star explosion which can then cause further cascading and/or additional Neutron Stars to appear.
Pulsar Neutron Stars Feature
There are four different Neutron Stars in the game, each with a distinct 'blast' pattern.
Each time a Neutron Star first appears, it is randomly assigned a number from 3 to 1, starting a countdown.
When a Neutron Star countdown reaches zero, it will explode, destroying all symbols within its blast pattern and replacing all destroyed symbols with the same randomly selected regular symbol.
Top award: 150 times the total bet.
Related Games