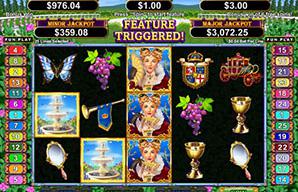 Life is pretty grand right now. We've got Internet access, food on our plates, a computer to play online casino games, and great people in our life. But every now and then, don't you ever wonder what it's like to live like royalty? Stop imagining! Regal Riches transports you into a majestic world of imperial rule where you're in charge of an entire kingdom. Sit on your thrown and watch your royal subjects bring you extraordinary wealth and serve it up on a silver platter. We're talking about things like two jackpots, the chance to win up to 25 free games, and royally big symbols that shower you with even more wealth than you could ever imagine!
How to Play:
As the ruler of your royal world, you're in charge of the game speed and you get to decide when to play. Begin by making your bet and line selections. Just use the up and down arrows to raise or lower your bet per line and the number of lines you'd like to play. You can bet anywhere from $0.01 to $5 per line and you can play 25 lines, just one line, or anywhere in between. Your final bet per spin is calculated by taking your bet per line and multiplying it by the lines you want to play. When you're ready to get going, just click the Spin button. The reels will start spinning and then come to a stop in their own. If you've won something, the game will pay you out automatically.
Game Controls:
Royalty rarely has to do any hard work. That's the case in Regal Riches, too, but you still need to pay attention to a few controls if you want to play and win. Here are the most important buttons and controls you should know about before you sit down to play Regal Riches.
Bet: The Bet button looks like it's clickable, but it's actually just static. See the arrows next to the Bet button? Those are the ones you want to click to raise or lower your bet per line.
Lines: You can play anywhere between one and 25 paylines. Just use the arrows next to the Lines button to increase or decrease the number of lines you want to play.
Spin: When you're happy with your selections, click the Spin button to set the reels in motion. They'll come to a stop automatically.
AutoPlay: Want to sit back, do nothing, and win? Turn AutoPlay on and the software will spin the reels, pay you out, and spin again for you.
Remember, Regal Riches pays you out for matching symbols automatically. Some symbols lead to even more wealth. For example, hitting three Fountain symbols sends you into a bonus round where up to 25 free games are yours. For details on which symbols lead to big payouts, click the Help button in the game.
Game Tips
It's not everyday that you get to feel like Royalty, so we get that you probably want to make it last. That's why we recommend conserving your bankroll. Yes, making big bets can lead to bigger payouts, but if you don't hit your winning streak right away, you could end up with nothing to play with. So start small by lowering your bet per line selection. We recommend playing all 25 paylines. You don't want to miss out on a winning combination.
Game Rules
There are special symbols in Regal Riches that lead to bigger payouts. For example, the Fountain symbol is the scatter symbol in the game. Scatter wins end up being added to line wins and are multiplied by your total bet. However, please keep in mind that scatters pay out only once per spin.
Game Symbols
Elizabeth
Trumpet
Necklace
Mirror
Goblet
Fountain
Musician
Fruit
Coat of Arms
Carriage
Butterfly
Castle
Related Games