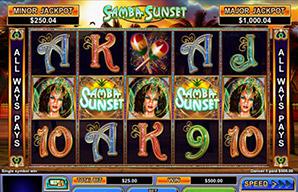 If the summer sun gets you in the mood to hit the dance floor, Samba Sunset is the perfect slot game to help you beat the heat. This fantastic new all ways pays slot from the masters at Real Time Gaming captures the world-class atmosphere of Rio and combines it with a non-stop barrage of ways to win. Sure, there are an impressive 243 combinations on every spin of the reels, but that's just the beginning when you usher in the evening with a little bit of Latin dance. Keep an eye on reels two and four, because that's where you'll find the spicy Samba Sunset wild symbols!
How to Play:
Getting started with Samba Sunset is a lot easier than dance classes, and it can be considerably more rewarding, even if you've got two left feet. All you'll need to do is load the game and click play to get started. From there, you'll need to select your wager. Since this game is all ways pays, you won't need to bother with selecting a number of paylines. Just input your total bet, click spin and break out your best samba. With a little bit of luck, you'll find yourself with plenty of scatters and wilds, as well as a bankroll boosting combination or two. If you've ever played an online slot game, you'll feel right at home in the heart of Rio with Samba Sunset.
Game Controls:
Real Time Gaming is well known throughout the business for its intuitive games and fantastic designs. Samba Sunset is no different. Use the arrow controls to select your wager. This game's all ways pays formula means that you'll only need to select your total wager to get the game underway.
Bet:
Selecting your bet with the simple arrow controls will determine how much you claim for each winning combination. Remember, all ways pays means 243 possible combinations.
Lines:
All ways pay in Samba Sunset for a total of 243 combinations. No need to worry with selecting paylines, just enjoy the high tempo musical action.
Spin:
When your bet is just the way you want it, you're ready to get the reels turning. Find the button marked 'Spin', and give it a click.
Autoplay:
Tired of clicking that button after each and every spin? Activate the autoplay feature to keep the game going without the need for any additional input.
With an impressive 243 possible combinations on every spin, you'll have a lot of options for quickly boosting your bankroll. Now's the time to scratch that slot game itch. Dust off those dancing shoes, because there's never been a better chance to beat the summer heat with some big time combinations.
Game Tips
Developing a solid, effective strategy for modern slots games is no easy task, because every available game is built around a random number generator that ensures no predictable patterns emerge. As a result, the best way to get the most out of your time with Samba Sunset is to evaluate your bankroll and choose a wager that will allow for a solid play session, regardless of whether you get on a hot streak or have a run of bad luck.
Game Rules
Instead of paylines, this slot pays in all directions, offering an incredible 243 combinations on every spin. Free game features are available when you collect three or more scattered Dancer symbols. Collect three or more scatters during the free games feature to trigger super games, which offer tripled prizes on wins featuring wilds.
Game Jackpot
Samba Sunset features a local progressive jackpot that's awarded randomly. At the conclusion of every game, you'll have a chance to claim the big prize. Even if you don't land a winning combination, you could still be a winner on each spin.
Game Symbols
Nine
Ten
Jack
Queen
King
Ace
Samba Sunset
Dancer 1
Dancer 2
Bay
Maracas
Drums
Related Games