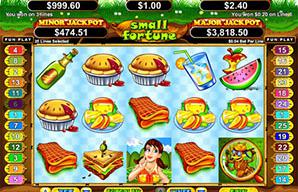 What's better than a picnic in the park for two? How about a picnic in the park with a few thousand ants? We know. Doesn't sound like much of a picnic, does it? Well, in Small Fortune, you'll be begging for the ants to come marching one by one your way because they're waiting to load you up with rewards. We're talking two jackpots, a top award of 7,500x your bet per line, and the chance to score dozens of free games, on the house.
How to Play:
Leave your bug spray at home. The only thing you need to stop the ants in their tracks is your finger, a mouse, and the will to click. Begin by choosing the number of lines you want to play and your bet per line. When you're ready to lock in your bet, just click the Spin button.
That's literally all you have to do. Ants might be a bit slow in the real world, but in Small Fortune you'll see them move at warp speed thanks to fast-spinning reels. Before you know it, the reels will come to a complete stop. You'll then get paid out depending on which symbols you've managed to line up. Some symbols pay out more than others, but you can click the Help button at any time to see which symbols are worth the most.
One symbol you'll want to watch out for is the Ant symbol. By landing on two of them in both the first and fifth reels, plus a picnic basket anywhere else, you'll get to play a special bonus feature where at least five free games are yours. And remember, Small Fortune also comes with two big jackpots, so you'll be able to win without even trying!
Game Controls:
The ants might have minds of their own, but that doesn't mean you can't control where they march. Here's everything you need to know about betting, spinning, and winning at Small Fortune.
Bet: In Small Fortune, you can play with a tiny amount of pocket change or a bigger bankroll. Just use the up and down arrow to raise and lower how much you'd like to bet per line.
Lines: Small Fortune is a 25-payline online slots game. That means you can play anywhere from one line to all 25. Again, the up and down arrows control your lines selection.
Spin: When you're happy with your line and bet choices, just click Spin to set the reels—and ants—loose.
Auto Play: Want to speed up how fast those ants move? Turn AutoPlay on and the software will spin for you right after all bets have been paid out. That means you can sit back and enjoy the picnic without doing a thing.
Game Symbols
Ant
Blanket
Butterfly
Cheese Platter
Champagne
Fruit
Girl
Glass
Pie
Salad
Sandwich
Picnic Basket
Related Games