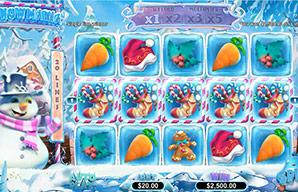 Prepare to walk in a winter wonderland with Snowmania. Enter the world of snowmen and frozen fields, where everything is shimmering with frost. Crushing symbols create the opportunity for more wins and prize multipliers. With winnings up to 37,500 times your bet per line, holiday features and lively music, you won't find a better gift under the tree.
How to Play:
Playing Snowmania is easier than building a snowman. And you get to stay warm.
Snowmania has 20 fixed paylines, so the only decision you have to make is about the size of your bet. Once you've opened the game, use the arrows next to the bet amount to increase or decrease the value and you're ready to play. Hit Spin and watch as the symbols fall down, frozen in ice cubes. Achieve a prize multiplier with Crushing symbols, when symbols that were part of a winning combination get crushed and replaced by new ones. This means that you can not only have multiple wins per spin, but the more wins you get in a given spin, the higher the multiplier gets (up to 5x in base game and up to 15x in the Feature).
Game Controls:
Real Time Gaming is well known throughout the business for its intuitive games and fantastic designs. Snowmania is no different. Use the arrow controls to select your wager, hit spin and watch as symbols fall into place.
Bet:
Use the up and down arrows to select your bet amount.
Lines:
With 20 fixed paylines, Snowmania left you focus on other aspects of the game. No need to select paylines.
Spin:
Ready? Click on the spin button to get started and watch the ice cubes fall.
Autoplay:
When your hands get cold, you don't have to stop. Turn on Autoplay, we'll do the spinning for you.
Game Tips
Creating a slot strategy is difficult, as all games are built around a random number generator. This means no predictable patterns emerge.
The best way to play Snowmania is to consider your bankroll and choose a bet amount that will let you play for a good amount of time. Snowmania has prize multipliers, crushing symbols, and fixed paylines, so the only thing you select is your bet size. Choose carefully and enjoy this beautiful, winter themed game.
Game Rules
The rules of Snowmania are straightforward. With 20 fixed paylines, the only decision you'll be making is about the size of your bet.
Winning combinations get crushed and new symbols fall down to replace them. With additional wins during the same spin, a multiplier builds up. Prizes are multiplied by 2 after the first crush, by 3 after the second crush and by 5 any time after that.
Get three or more Presents (the scatter symbol) left to right and trigger 10 free games (with the possibility to trigger more). If winning combinations occur, prizes are awarded and this process continues until there are no more winning combinations. In the feature, the multiplier gets interesting. After your initial win, prizes are multiplied by 3, by 6 after the first crush, by 9 after the second crush and by 15 from then on.
Ice Wild
Present
Gingerbread Man
Bell
Carrot
Santa Hat
Santa Hat
List
Holly
Stocking
Present
Ice Wild
Related Games