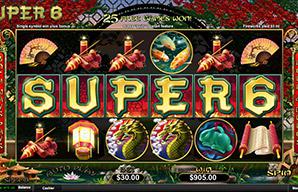 Looking for a little Chinese luck in your life? It's time to step into the world of Super 6 where every spin could lead to the super luckiest day of your life. How lucky are we talking about? It all starts with a top award of 10,000x your bet per way, and it continues with a whopping 729 possibly winning combinations. With every spin, you've got a chance to enter a free games bonus round where up to 25 free spins could be yours. And not just any spins. These ones come with extra wilds and big prize multipliers. There's so much luck waiting to be had, you'll feel like you've hit the jackpot with every spin.
How to Play:
Super 6 packs a seriously lucky punch into every spin. The goal of the game is to spin the reels and line up symbols. Different symbols reward different payouts. You can see how rewarding each symbol is by clicking the Help button within the game anytime. But don't worry. You can play blindly without having to worry about what's worth what. That's because the software calculates everything for you automatically. So if you've won something, you'll get paid out right away.
Game Controls:
Playing Super 6 is extremely easy, as long as you familiarize yourself with a few important controls. We've laid it all out for you right here. So take a moment to familiarize yourself with everything and get playing.
Bet:
Use the up and down arrows to adjust your bet per spin. Your bet won't be locked in until you hit Spin, so feel free to keep adjusting it until you're happy.
Lines:
This is an All Ways Pays game, so there are no lines to worry about. Essentially, every possible line is played each time you hit Spin.
Spin:
When you're happy with your bet, click the Spin button to get the reels moving.
Autoplay:
Prefer to sit back and relax? We can do the spinning for you. Just turn Autoplay on to use the same bet over and over again. After you get paid out for wins, the game will spin for you once again.
Remember, if you need help with any of the controls at any time, just click the Help icon within the game. You won't have to come back to this page to get the details. Everything you need to know is explained right in the Help section.
Game Tips
Looking to bet smarter? Consider giving a betting strategy a try. Start by placing the smallest possible bet. If you win, keep your bet the same. If you lose, double it. Eventually, when you win, you'll recover all those losses and actually be ahead. Of course, if you hit a wall where you can't double your bet because you're out of cash or because you've bet the max, you'll be out of luck. So try this first at the play money slots.
Game Rules
There aren't too many rules to worry about in Super 6. Just spin and win. It really is that simple. One important rule, however, has to do with the substitute symbol. It can sub in for most other symbols in the game, except for the scatter symbol, so keep that in mind.
Game Symbols
S
U
P
E
R
6
Emperor
Koi
Coins
Dragon
Envelope
Amulet
Related Games