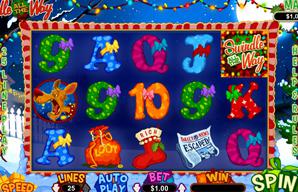 Be on the lookout for two bumbling burglars and get into the Christmas spirit with Swindle All the Way the hilariously entertaining progressive slot from Real Time Gaming at the Virtual Casino. You won't want to miss out on a chance to win up to 60 free games and outstanding prize multipliers with this exciting game with twist on the holiday season! Sign Up now get a 250% No Max Bonus and enjoy 30 Free Spins! Just use the coupon
CHRISTMASCROOKS
to enjoy your rewards and start playing!
Hit three of the Swindle All the Way scatter symbols to trigger the free games bonus and for a chance to win big bet multipliers and free games! This thrilling 25-payline slot has major and minor Progressive Jackpots. Top reward is 82,500 times the bet per line! So, grab your favorite Christmas sweater and enjoy a cup of eggnog while you play the wildly entertaining slot game Swindle All the Way!
How to Play:
All you'll need to do is load the game and click play to get started. From there, you'll need to select your wager and number of paylines (we recommend leaving it at the max bet setting of 25). Simply input your bet amount, click Spin and enjoy the reels go by! All you need is a little luck, and you'll find yourself with plenty of wilds. And remember, you can always turn on Autoplay feature if you just want to sit back and enjoy the fun.
Game Controls:
Real Time Gaming is consistently ranked as one of the most reliable in the business for its entertaining games and spectacular designs. Swindle All the Way is no exception. To get started, all you need to do is load up the game, and use the arrow controls to select your bet. Once you're confident with your wager, just click the Spin button to get the reels going toward your first big win.
Bet:
Use the up and down arrows to modify your bet. It can be changed before you hit the Spin button.
Spin:
To get the reels spinning, simply hit Spin. They'll spin and stop automatically.
Speed:
This adjusts the speed that the reals spin from slow to fast.
Paylines:
There are 25 paylines in Swindle All the Way. The best strategy it to select all, place your bet and hit spin.
Autoplay:
Want to grab that Christmas loot even faster? Just turn Autoplay on. The software will use the last bet amount you made to spin for you automatically. Once you're paid out for any wins, it'll do so again and again. And it'll keep going until you turn Autoplay off.
Game Tips
Developing a solid, effective strategy for modern slots games is no easy task, because every available game is built around a random number generator that ensures no predictable patterns emerge. As a result, the best way to get the most out of your time with Swindle All the Way is to evaluate your bankroll and choose a wager that will allow for a solid play session, regardless of whether you get on a hot streak or have a run of bad luck.
Game Rules
The rules of Swindle All the Way are easy to follow. There are 5-reels, 25 variable paylines, and all symbols pay left to right, with 5 of a kind paying only once.
The Robber is wild and counts for all symbols except scatters. Once a Robber appears, it will freeze to cover all positions on the reel before payouts are awarded.
The Swindle All the Way logo counts as the scatter symbol and the free games feature is triggered when 3 or more scatters appear anywhere.
How to play the Bonus Features
The free games feature is triggered when 3 or more scatters appear anywhere.
Two robbers are hidden on each reel.
One pick is allowed on each reel to find a robber if 3 scatters trigger the feature
Two picks are allowed on each reel to find a robber if 4 or 5 scatters trigger the feature
3 free games are awarded if 3 scatters trigger the feature, plus 2 free games for each robber found
5 free games are awarded if 4 scatters trigger the feature, plus 3 free games for each robber found
10 free games are awarded if 5 scatters trigger the feature, plus 5 free games for each found
The free game prize multiplier is 1 plus 1 for each robber found, or 3 plus 3 for each if 5 scatters triggered the feature
Any retrigger adds 10 free games to the current feature
Free games are played at the line and bet of the triggering game
Game Symbols
9
A
Bag
Bandits
J
Cookie Milk
Sock
10
Newspaper
Q
Rudolfs
K