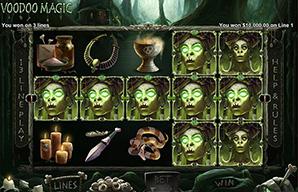 Scared of the spooky graphics, characters rising from the dead, and creepy sound effects? We don't blame you. But we think it's time you look beyond all that. Because lurking behind all that voodoo magic are rewards unlike what you've ever seen before in a slots game. OK, maybe you've seen it before, but the creepy factor here puts these rewards in a world all their own. So don't be frightened. Really, the only thing you should be scared of is not playing this epic 13-payline slots game and missing out on something big.
How to Play:
Ready to cast a spell and play Voodoo Magic? Put your spell book away because we'll show you how to play from your Mac or PC without the need for any sort of voodoo magic on your end.
When you sit down to play, you'll see several stationary reels, a Lines button, and a Bet button. Simply make your bet and line selections, and then click Spin to start playing. When the reels come to a stop, you'll get paid out based on how many symbols you've managed to line up.
Remember, you can change your bet and line selections at any time. So if you've played 13 lines at $1 per line in one spin, you can lower your bet to 3 lines at $0.05 a line the next spin. There's no need to be consistent, and many betting strategies encourage modifying your bet based on wins and losses.
Game Controls:
Bet: Choose how much you'd like to bet per line. You can wager anywhere from $0.01 to $5 per line. Use the up and down arrows to modify your bet.
Lines: Choose how many lines you'd like to play. Voodoo Magic is a 13-payline game and you can play between 1 line and all 13.
Spin: To lock in your bet, click the Spin button. The reels will come to a stop shortly thereafter, so you don't have to press a button to stop the reels.
Game Tips
Want to win big and have more fun than shoving pins in a voodoo doll? Try a betting strategy. While definitely not a sure thing, betting strategies do make things more interesting – and many online slots players swear by them. You can start with an easy one. Start at $0.05 per line. Whenever you win, increase your bet by one. Whenever you don't win, decrease it by one. Seeing where that takes you is half the fun!
Game Rules
Voodoo Magic comes with 13 reels, but you don't have to play all of them. This is a variable payline game, so feel free to change things up. However, keep in mind that playing less than 13 lines reduces your chances of getting paid out the 50,000x your bet reward, especially if matching symbols pop up on a payline you didn't play.
Game Symbols
Priestess
Potion
Necklace
Mask
Ingredients
Voodoo Doll
Tribesman
Statue
Snake
Skull
Dagger
Candles
Related Games