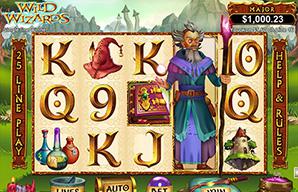 The magic spells are filling the air with fascination and, without the least qualm, loads and loads of riches with Wild Wizards! The wild wizards have been brewing up an array of spells and sorcery to mesmerize all the players of Wild Wizards. Come on in and experience the magical realm of sorcery just waiting to be enjoyed absolutely. Wild Wizards and Scattered Spell Books trigger one of five unique free game features – Sorcery feature, Wizard's Tower feature, Polymorph feature, Fireball Feature, and Mad Magic feature – that can include Held Expanding Wilds, Mad Magic Multipliers, Bonus Symbols and Extra Wilds!
How to Play:
Come and join the Master Wizard as his apprentice, and he will teach you how to slowly but surely master the arcane arts to make yourself quite rich. You will find it to be much easier than it may appear at a glance. The first step towards becoming a great wizard is to select the bet amount you want to wager. After that you can select how many lines you would like to play on. You can do so using the arrow buttons. Then all you need to do is click on the spin button to lock your bet and let the Master Wizard teach you his arcane ways. The bedazzling magic can win you loads of riches before you can say Abra Kadabra Alakazam!
Game Controls:
Learn the Wizard's ways to learn his power. The controls for this supremely formidable arcane slot game are your usual controls for most slot games. That way it will be so much simpler to become the Master Wizard's best student as you learn his secret and enigmatic spells and incantations.
Bet: Use the bet button on the game to select and place the amount of money you would like to wager when you play Wild Wizards.
Lines: Use the pay line buttons to select the number of pay lines you'd like to play on with your bet as you play Wild Wizards.
Spin: Use the Spin button on the game to lock your bet selection and pay line selection and spin the reels and win lots of cash.
Autoplay: Use the Autoplay button to put the magic of wizards to work locking your bet and pay lines for a number of spins you decide.
Game Tips
Once you get the hang of these mysterious spells, conjurations, and incantations, you will be well on your way to becoming a powerful and rich wizard yourself. It is a very good idea to take as much advantage of the special bonus features as possible since they will get you the most rewards in the game. If you get the Mad Magic feature, the Mad Magic multiplier is the thing to be exploited. Always listen to your Master Wizard teacher.
Game Rules
Make certain that you keep in mind that the Wild Wizard symbol and the Book of Spells scatter symbol are your tickets to the vastest rewards this game has to offer. More Wizard symbols are added and held during the five feature games in this magical and mystifying new game.
Game Jackpot
Wild Wizards has two local progressive jackpots: a major and a minor jackpot. The Major jackpot resets at $1,000 and the minor at $250. These jackpots are good for easy grabbing. Bigger jackpots are more difficult so go for these.
Game Symbols
Nine
Ten
Jack
Queen
King
Ace
Wizard
Tower
Potions
Owl
Hat
Book of Spells
Related Games