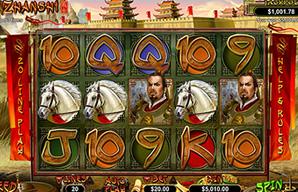 Grab your Dao and get ready to slash your way to big rewards in Zhanshi. There's a lot to fight for in this ancient Chinese-themed slots game, including a top payout of 30,000x your bet per line, two feature games with the potential to earn 25 free games off the bat, and a killer jackpot that resets at $1000 after it pops.
Ready to play? Download The Virtual Casino to your Windows PC, or sign in on Instant Play through your Mac (or on your mobile device). It takes just a few minutes to create your account and as soon as you do, you can play for free.
How to Play:
It's easy to get started with Zhanshi and no special warrior skills are required. You will need to use your hands, though. Or your fingers, more specifically. Start by choosing how much you want to wager per line and how many lines you want to play. You can bet anywhere from $0.01 to $5 per line and you can play anywhere between one line and all 20 lines. Just use the up and down arrows next to the Bet and Lines button to modify your selections. When you're good to go to battle, hit the Spin button. When the reels stop and the warriors land on their feet, you'll get paid out if you managed to line up the right symbols.
Game Controls:
No fancy warrior moves are required to play Zhanshi. All you need to know are a few basic controls. Whether you're playing on your PC, Mac, iPhone, iPad, or Android device, the controls are pretty much the same across all devices.
Bet:
Click or tap the arrows next to the Bet button to lower or raise your bet per line. This will also modify your bet per spin, in conjunction with your Lines selection.
Lines:
This is a 20-payline slots game, which means you can play between 1 and 20 paylines. Feel free to adjust in either direction and play as many lines as you're comfortable with.
Spin:
When you're happy with your bet and lines selections, click the Spin button to get the reels moving. When they come to a stop, you'll get paid out for any symbols that match up.
Autoplay:
Prefer to sit back with your feet up instead of fighting like a warrior? Then turn on Autoplay. The software will spin for you using your last selected bet and line amounts.
If you want to see which symbols pay out the most (or the least, for that matter), click the Help icon at any time during a regular game, in between spins. You'll see a full payout schedule, plus details on how to enter and play the bonus rounds — just in case you forget after reading this page.
Game Tips
You may feel inclined to adjust the line amounts. After all, we told you under the Game Controls section that it's easy to do. However, for maximum profit potential, keep those lines locked to 20. Playing fewer lines means you could end up missing out on winning big payouts. If symbols line up on a line you decided not to play, you won't win. It's also good practice for every other game. Some games require you to play all paylines in order to qualify for a jackpot.
Game Rules
There aren't a lot of rules to worry about in this online slots. For the most part, standard slot rules apply. You should know that there is a top award of 30,000x your bet per line. What's more, substitute symbols can't sub in for scatter symbols.
Game Jackpot
Zhanshi comes with a progressive jackpot that gets bigger and bigger until it's randomly popped. You'll never know when or where it's going to happen, but when it does happen to you, you'll feel like one lucky warrior. Upon popping, the jackpot resets at $1,000.
Game Symbols
Nine
Ten
Jack
Queen
King
Ace
Warrior
Banner
Horse
Shield
Sword
Temple
Related Games