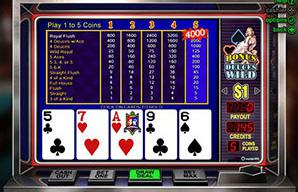 Double the fun with Bonus Deuces Wild! This game is a variant of Deuces Wild, the difference lies in the fact that this version is presented with a bonus feature. In Bonus Deuces Wild, deuces are wild and give special payouts for four-of -a-kind deuces as well as well as for five-of-a-kind hands. You also get a chance at doubling your winnings in a Bonus Round of Double or Nothing. Play now!
How to Play:
In Online Bonus Deuces Wild, you can play 1, 3, 10, 52, or even a 100 hands at a time. The goal of Bonus Deuces Wild is to get a winning poker hand and you can use 2's to substitute any other card. You get special paypouts if you get five-of-a-kind hands, four-of -a-kind deuces and Wild Royals. You can double each winning in a Double or Nothing Round where the goal is to get a higher card than the dealer's.
Hand Ranks:
Royal Flush
Four Deuces with Ace
Four Deuces
Wild Royal
Five Aces
Five 3–5
Five 6–King
Straight Flush
Four of a Kind
Full House
Flush
Straight
Three of a Kind
Game Controls:
In the Bonus Deuces Wild game, the credit's value can be as low as $0.05 and as high as $5. You will have three casino chips with the following values: $5, $25 and $100. You will be able to select the amount you would like to bet on each hand by clicking on those chips, depending on the size of your playable bankroll. If you would like to bet $60 on your next hand, you would simply click the $25 chip twice, and then click the on the $5 chip twice. To remove chips from your bet, you simply click the Cash Out button and they will be removed and placed back in your bankroll.
(NOTE: you can only remove chips from your bankroll before the cards have been drawn. Once the Draw Cards button is pressed all bets are final).
Below is a brief description of each of the buttons found at the game of Bonus Deuces Wild.
Bet One:
The bet one button is used to select the amount of credits you wish to play according to the amount of money you have placed to bet.
Bet Max:
The bet max button plays all your credits at once.
Draw Deal:
When the draw deal is pressed the game starts and you are dealt your 5 cards.
Cash Out:
The cash out button returns all the money to your bankroll before the cards are drawn.
Cashier Button:
The cashier button will take you to the casino cashier where you can redeem bonus coupons, make deposits, request withdrawals and view your account history.
Menu Button:
The menu button allows you to change the game settings in regards to view, sound and card speed, and also allows you to view your account history directly from the game screen.
Help:
The help button will take you to the RTG Bonus Deuces Wild page where you will be able to find the basic rules of our the game along with Payouts and Point Values.
Back:
The back button will send you back to the casino lobby and allow you to choose another game to play.
Game Tips:
Bonus Deuces Wild Tip 1:
Never spare any wild cards. A wild card substitutes any card of any suit, they always come in handy.
Bonus Deuces Wild Tip 2:
If your hand contains no valuable cards it is advisable not to keep any cards and hope that the drawing hand will give you a winning combination.
Bonus Deuces Wild Tip 3:
Don't abuse the bonus feature. This is triggered automatically as long as you're winning and it doubles your winnings but it can also leave you with nothing. Use it carefully.
Game Rules
Please refer to the pay table displayed in the game. Payouts increase when you increase your bet per hand. The respective column will be highlighted in the pay table when you increase your bet per hand.
Related Games