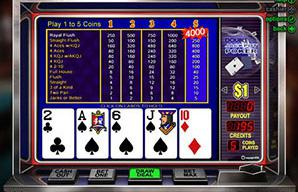 Convert your best cards into big money prizes. Great payouts and Double or Nothing bonus rounds make this online experience a must for casino goers everywhere. Play your best hand of four-of-a-kind and Royal Flush card combinations for an amazing run in a game where bonuses will arrive in no time.
How to Play:
Start by selecting your bet amount. The player can Bet One for a single credit or Bet One multiple times for several credits. Then, one must hit the Draw button to look at the five cards. You can hit Bet Max to play five credits as a maximum bet per turn. The user will press Deal to see if he won the hand. Some hands receive better payouts according to their rank. If players win a hand they are eligible for the Double or Nothing Bonus Round where they have to compete for the highest card against the dealer.
Hand Ranks:
Royal Flush
Straight Flush
Four of a Kind
Full House
Flush
Straight
Three of a kind
Game Controls:
Below is a brief description of each of the buttons found at the Bonus Deuces Wild video poker machine.
Bet One :
The bet one button is used to select the amount of credits you wish to play according to the amount of money you have placed to bet.
Bet Max:
The bet max button plays all your credits at once.
Draw/Deal:
Draws 5 cards for the player to select the ones that will play on the next round. Deal button will show the result of the play.
Cash Out:
Stops the action for you to cash out your credits and winnings.
Game Tips:
Double Double Jackpot Poker Tip 1:
Play the game for fun first in order for you to understand the wide variety of card scenarios. Once you gain playing experience you can switch to real money and win great prizes due to a better strategy.
Double Double Jackpot Poker Tip 2:
Winning a good hand leads to a Double or Nothing Bonus Round that should be taken at least once, this will definitely improve your cash prizes.
Double Double Jackpot Poker Tip 3:
For a more dynamic strategy try to play card ranks that rate higher, such as three of a kind.
Game Rules
The payout table is shown on the Double DoublePoker screen.
Related Games